Category: t.v.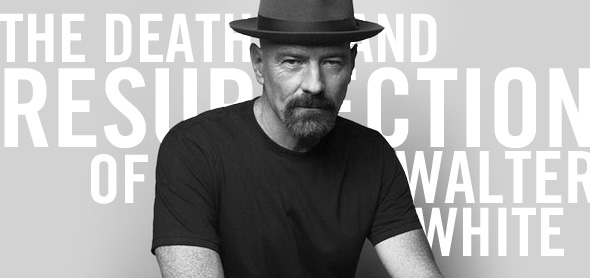 over the course of the last 8 weeks, we witnessed the death of walter white.


no, you didn't just receive a giant spoiler. walter white didn't physically die. he's still alive and well. but walter white left us throughout the course of this 5th season. we were left only with heisenberg. there was only a sociopathic, murderous meth manufacturer and newly crowed drug kingpin.


this sunday night (july 15 at 9 p.m.), breaking bad fans will finally get the fix we've all been waiting for since last year's stunning season 4 finale. with great anticipation, we've counted down the days to see what walt—the newly crowned king—will do now that he's free from the grip of gus fring.


[if you'd like a recap of season 4's finale—along with some video—go here to see my post from last october.]


this isn't the first time i've blogged about conversations on real time with bill maher. in spite of having regular (weekly, probably) disagreements with some of maher's positions, it's one of my favorite shows because of the blend of maher's humor and the show's candid conversations.

if you've never seen hbo's boardwalk empire, some have described it as the sopranos set during prohibition. while that might be an overly simple description, it does offer a bit of insight into the nature of the show: gangsters, deceit, betrayal and violence all executed perfectly by a brilliant script, visionary directors and an inspired cast.


while the entire season (the show's second) has been a good one, this past sunday's episode was particularly powerful. a lot of major plot twists and character insights were contained in this episode, but it was a simple dialogue that most caught my attention.

i can't decide if it's a blessing or curse that i tend to see the world through a theological lens. either way, it leads to some unexpected (and often humorous to most people, i'm sure) observations about the nature of both god and people.


so it was on last night's midseason finale of amc's the walking dead. in a nutshell, for those who have never watched it, the show is about a group of people trying to save themselves in a world that has been overtaken with zombies (a.k.a. walkers). generally, i dislike the entire zombie genre, but this show is much more about the interpersonal dynamics of the group. which brings me to last night's deeply theological episode.
prior to the start of the 4th (and now completed, as of last night) season of breaking bad, writer and producer vince gilligan talked candidly about how this was the season that walter white would finally (and completely) turn the corner from a heroic father to a self-focused monster. this evolution has been relatively slow. in fact, i spent the majority of this season believing that gilligan overstated their intentions for this character. walt had his moments of monstrous power, but had just as many weak moments spent living in fear and paranoia.


and then the final episode occurred.


in the end, mr. chips became scarface.


or maybe i should say gustavo fring.


because that's precisely who he became.

ok, so i'm sorta into breaking bad…


yes, long-time (or even short-time) blog readers (as well as my twitter followers) know that i've got what doctors call an "obsession". in all seriousness, week in and week out, breaking bad is a show that continues to compel me and draw me into this incredible story of walter white and the spiraling world around him.


prior to the start of this season (season 4), writer and producer vince gilligan talked candidly about how this was the season that walt would finally (completely) turn the corner from a heroic father to a self-focused monster. certainly, we've slowly seen that unfold in the first half of the season. as walt's paranoia toward kingpin gus grew, we saw him begin to embrace violent and illegal means to his ever-growing power hungry ends.


ward cleaver has become scarface.


dr. jekyll has said farewell to mr. hyde.