Category: blog stuff
well, another year of blogging is in the books…er, on the internet.
in my most read of 2011 post last year at this time, i wrote that i thought i finally hit a stride in 2011. that stride slowed considerably this year (i wrote just over 50 posts this year, which is less than half of last year's total), but in some ways, i think the quality increased. less filler this year. i only blogged about the stuff i really cared about. often, quite frankly, i didn't even blog about some of the stuff i cared about. some of that was simply a product of personal burnout and time limitatons, but just as much was about making choices related to personal constraint.
year number 3 of blogging is about to come to an end. it's been an up and down year. there were times when i thought i finally hit my stride and there were other times i was ready to shut down the site and pretend it all never happened. but 107 posts later (in 2011), i'm still plugging away.


each year, i like to take a look back—more out of curiousity than anything—and see which posts were most read. it never fails that that list is comprised both of posts i could've predicted (news-worthy or "controversial" posts) and things i would've never guessed.


so, here's the list of the 10 most read posts on my blog for 2011.

word on the street is that it's 2011.


2010 has been quite the year. life. death. and everything in between (we'll get to all the in between stuff shortly).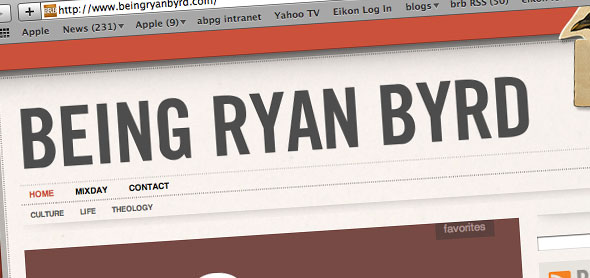 in june 2010, i decided i wanted to redesign my website and began the transition/redesign process.


in the wee hours of the morning a couple nights ago (in december 2010), i finally finished it.


and ladies and gentlemen, here's what i came up with.
greetings. welcome to the blog. maybe you're here because you saw me in a little rock family story about the top local bloggers. i'm the large, hairy woman in the middle. you know, the one who looks like the offspring of a lumberjack and a grizzly bear. yeah, that's me. the lone dude. I was glad to be asked to [...]
more than once (to deal in understatement), i've been called an apple fanboy. there's a certain contingency of the unconvinced (the ignorant?) that assume if you like apple's products, you must be blindly being led like a brainless sheep. but, of course, there's another contingency. that is, naturally, the contingency of the convinced: the people who have seen, time and [...]
in a post reviewing 2008, i crunched a few numbers, revealing that i blogged just over 1 time per day (1.004 times to be precise). for some bloggers, 1 post is nothing. to the average blogger, that's relatively frequently (in terms of the type of blogging i do). i love to blog and enjoyed the time/ability to frequently post my [...]