Category: websites
well, another year of blogging is in the books…er, on the internet.
in my most read of 2011 post last year at this time, i wrote that i thought i finally hit a stride in 2011. that stride slowed considerably this year (i wrote just over 50 posts this year, which is less than half of last year's total), but in some ways, i think the quality increased. less filler this year. i only blogged about the stuff i really cared about. often, quite frankly, i didn't even blog about some of the stuff i cared about. some of that was simply a product of personal burnout and time limitatons, but just as much was about making choices related to personal constraint.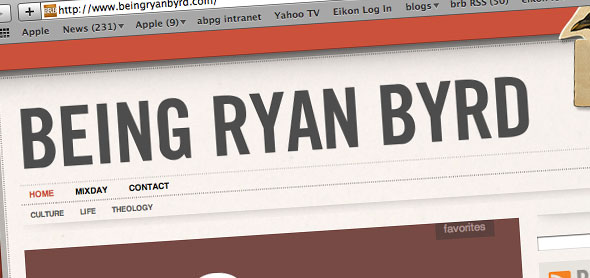 in june 2010, i decided i wanted to redesign my website and began the transition/redesign process.


in the wee hours of the morning a couple nights ago (in december 2010), i finally finished it.


and ladies and gentlemen, here's what i came up with.
there are few sure bets in this world. yes, we can count on nic cage being just a little more creepy in his next film than the last. and yes, we can count on—regardless of years of reason to believe the previously stated fact—hordes of people flocking to the theater to see said next film. but otherwise, very few things, [...]
my general rule in life is that when a chart includes "vomity corpse" and "bad crotch", it's a chart worth sharing. so, enjoy this periodic table from natalie dee of the consistently hilarious married to the sea. [click to see larger]
over on the blog of john hardin, john posted a great religious flowchart from holy taco. so, which religion should you follow??
i love twitter. for a lot of different reasons. it's fast, it's streamlined, it's connective, it's educational, it allows regular exercise in brevity, it's ADD-friendly, it's bridge-building, it's uniquely expressive. it's all this and more. but. i do have a handful of gripes. there's several things that consistently bug me on twitter. one of the beauties of twitter is that [...]
mcsweeney's consistently produces both quality and hilarious content. one of their best ongoing series is their Open Letters to People or Entities Who are Unlikely to Respond. it's reminiscent of the Budweiser Real Men of Genius commercials from several years ago, but even smarter and more biting. i came across one today that was so great that i had to [...]