there are certain bands that mark various times in my life and certain events that are memorable and defining. coldplay has been one of these bands, so, therefore, i have been eagerly anticipating the release of their new record, viva la vida or death and all his friends for quite some time. i have been eager to see how this record speaks to my life and my current journey.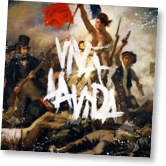 needless to say, this album hasn't disappointed. all in all, the album has a sweeping and epic sound that plays out like a soundrack to life and death and everything in between. with its rich orchestration, layered guitars and soaring vocals, coldplay has yet again struck a chord, but with a much different and welcomed sound.
the chief cause of the departure from their traditional sound is the addition of brian eno in the booth as producer. eno is best known as a member of the glam and art rock band roxy music in the 70's, but most notably as consummate u2 producer for such albums as the unforgettable fire, the joshua tree, zooropa and all that you can't leave behind. brian eno, primarily, has brought a lot of keyboard and synthesizer sounds to coldplay's palette. while chris martin has always used keys as a featured element, their music has always had a balance of keys and guitar-driven melodies. in viva la vida, the synth knob was turned up considerably.
i try not to make constatnt comparison between colplay and u2, but with eno at the helm, its too noticeable. so, the best comparison, in terms of overall sound, is somewhere in between the joshua tree and zooropa. when eno solely produced zooropa, he took u2 in a direction similar to viva la vida with synthesizers much more in the foreground. for coldplay, it wasn't a necessary per se, but the results prove that it's a welcome sound.
for me, the stand-out tracks are yes with its earthy and poignant lyrics, cemeteries of london with its cryptic and haunting undertone and i still love viva la vida with its soaring chorus and spiritually charged lyrics. the songwriting on viva is a step forward from x & y, but i'm still a couple hundred listens away from saying that it is comparable to a rush of blood to the head. accordingly, i still have to say that my favorite coldplay record is a rush of blood to the head, but again, it takes great strides in separating itself immediately from x & y.
all in all, viva la vida is one of the most complete and compelling records that i have heard in a while. so, go pick it up and enjoy (for all you walmart haters and lovers alike, you can't beat the fact that it only costs 10 bucks there…).