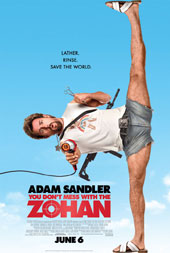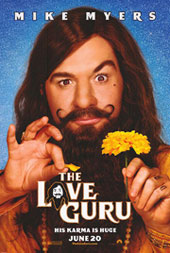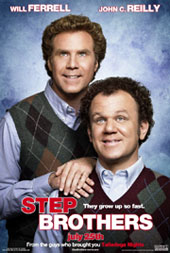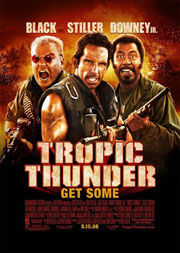 it goes without saying that i love to go to the movie theater. there's something about the experience of the giant screen (loyal
rave
patron), the incredible surround sound, the smell of popcorn and the fade of the lights just prior to the movie. it's almost other-worldly. this summer, christen and i have had no shortage of trips to the theater. among many other movies, we've seen 4 comedies, of which i have yet to write reviews on the blog.
i thought here at the end of summer, now that the excitement and activity of the summer is beginning to fade, it would be a good time for an old fashioned throwdown. so, i'll offer a super-quick review of each of the four movies, give a couple points of comparison and then crown a summer 2008 comedy champion. the movies in the running, as seen above, are the following:
you don't mess with the zohan
(adam sandler),
the love guru
(mike myers),
stepbrothers
(will ferrell) and
tropic thunder
(ben stiller, jack black).
zohan: every time there's a new adam sandler movie, i sort of go, 'oh, another adam sandler movie…ehh.' …and then i go see it. this was actually one of those times that we just felt like going to see a movie (or we actually had a babysitter and couldn't pass up the opportunity), but there wasn't something we really wanted to see. with all that said, this movie ended up being hysterical. in typical fashion, the ridiculousness of the concept actually helped to further how funny it was. you sort of had to go into accepting how ridiculous the concept was in order to laugh. the cast of characters is just the same as other sandler flicks and each one creates memorable moments and one liners like other classic sandler movies. all in all, zohan delivered.
the love guru
: unlike
zohan
, i was actually really looking forward to this movie. i think mike myers is universally hilarious and i got the feeling from previews that this was going to be
austin powers
4. while some complained about that continuation, it was a welcome comparison for me. mike myers is a master at creating ridiculous characters that are both hilarious and endearing. now, in all fairness, this definitely wasn't as good as austin powers. it fell short in several places. it relied a little much on potty humor (which isn't always bad, used in moderation) and the cast of characters wasn't nearly as good as austin powers' sidekicks (dr. evil, fat bastard, etc.). one disappointing aspect of this movie (although not too surprising) was that
justin timberlake
was pretty terrible. his character, jacque, was uninteresting and predictable. all in all, though, there were several laugh-out-loud moments and i can't not like mike myers' sense of humor.
stepbrothers
: long before this movie came out and even before i saw the trailer, all i needed to see was the movie poster. seriously, will ferrell and john c. reilly with matching sweaters in the awesome 1986
olan mills photo
. classic stuff. pretty much anything that will ferrell is in, i'll go see. from his days at snl to
anchorman
to blades of glory, i'm there. with
stepbrothers
, there were literally no less than 5 or 6 scenes that i laughed out loud at (which says a lot for me). undoubtedly, both will ferrell and john c. reilly really overplayed their characters, but that only added to the hilarity and ridiculousness of it. i'll be the first to say that the foul language was gratuitous. i can handle a certain level of cussing, but it was over the top. the foul language, though, couldn't keep this movie from being hysterically funny.
tropic thunder
: one of my gold standards for comedies is
dodgeball
, so when a ben stiller movie comes out, i definitely pay attention. partner that with one of my top 5 funniest movies being
nacho libre
, i was eager to see ben stiller and jack black team up in
tropic thunder
(not to even mention robert downey, jr. as a black guy…). one of the great things about the two aforementioned movies is that there are classic lines that you can't help but to quote after seeing them (i.e. "nobody makes me bleed my own blood" and "they give me no power, they give me no nutrients", respectively). i unfortunately report that
tropic thunder
is virtually devoid of any classic lines. it wasn't that tropic thunder wasn't funny (because it was, at moments), but it's just that i feel like it couldn't make its mind up between being a comedy and an action movie. either way, there's no denying its entertainment value, but it just wasn't as funny as it could have been when you combine the hilarious cast. in the end,
tropic thunder
delivered funny, but not on the scale that i expected.
ok, so what does this all mean?? these are definitely 4 hilarious movies, all in their own rights. they are distinctly different than the next, so it's a bit like comparing apples to oranges. but, in the end, funny is funny. here's my breakdown.
while tropic thunder had its hilarious moments, it comes in 4th.
the love guru had mike myers going for it, but still comes in 3rd.
surprisingly, zohan was pretty hysterical, but it comes up just short at 2nd.
and, obviously, will ferrell delivers again, making stepbrothers the champion of the 2008 being ryan byrd summer comedy throwdown.