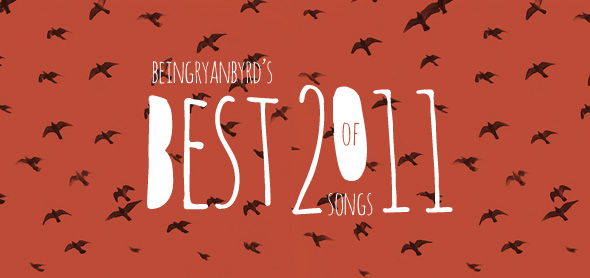 over the course of this week, i'll be posting my annual best of lists. as a complete list nerd, this is my favorite time of the year here on the ol' blog. here's the lists i'll be posting:
tuesday: best new music discoveries
yesterday (wednesday): cover songs
today: songs
tomorrow (friday): albums
the last couple days—with best new discoveries and cover songs—have been list appetizers. but now we've reached the main courses: songs and albums (we'll get to albums tomorrow). i've listened to, um, a few songs this year. and while many were good, there were a select list of great songs. from grunge rock veterans to luxury rappers, here's the songs that made 2011 a great year for music:
25. strange negotiations: david bazan
24. whirring: the joy formidable
23. science fiction: the hawk in paris
22. go outside: cults
21. the magic: joan as police woman
20. made in america: kanye west & jay-z (ft. frank ocean)
19. (i wanna live in a dream in my) record machine: noel gallagher
18. satellite: eddie vedder
17. the birds, pt 1: the weeknd
16. bizness: tune-yards
15. gold on the ceiling: the black keys
14. magic: leagues
13. someone like you: adele
12. odd soul: mutemath
11. the tourist: sarah jarosz (ft. punch brothers)
10. lonely boy: the black keys
album: el camino
when bands have huge success with an album, it makes putting out the next one extremely difficult in terms of meeting expectations. and part of the key is making sure the lead single signals to fans that those expectations can be met. the black keys did just that with this song as the lead single for el camino.
9. we all try: frank ocean
album: nostalgia
at the ripe old age of 21, this was a bit of a declarative statement of beliefs for frank ocean, offering insights into everything from abortion to the afterlife to the nature of people. beyond the lyrics, this is just a song that sounds great. much like the name of the album (nostalgia), this is a song that feels like it was written forever ago, but specifically for 2011.
8. shake it out: florence & the machine
album: ceremonials
this is florence and the machine at their best. the songs builds in the first verse and then explodes in the ensuing chorus. sometimes we just forget that music should be fun and florence welch reminds us all of that with this song (and her entire album).
7. lippy kids: elbow
album: build a rocket boys!
this was the lead single to their highly anticipated follow-up to the award-winning the seldom seen kid. much like the black keys' el camino, elbow was faced with trying to maneuver huge expectations. and with lippy kids, rather than trying to give us something over-the-top or trying to reinvent the wheel, they stripped it down and created a beautiful and poignant song about youth and their hometown.
6. rolling in the deep: adele
album: 21
i've read quite a few best of 2011 lists and a couple of them dared to leave off this song. and those music outlets instantly lost a ton of credibility. regardless of whether or not you love or hate adele, there's no denying that this was one of the biggest and most important songs of 2011. it's one of the best pop hooks in a long time and it managed to make adele have one of the biggest years in all of music.
5. blue jeans: lana del ray
album: n/a (to be released in january 2012)
when 2011 began, we had never heard of lana del ray. but then came video games and an internet sensation was born. whereas video games ended up on many end-of-year lists, i really prefer blue jeans. in some ways, i view those 2 songs as companion pieces that helped to introduce her to the world.
4. cruel: st. vincent
album: strange mercy
there was a lot of buzz leading up to the new st. vincent album from a very passionate fan base. i wasn't necessarily on the bandwagon of ardent believers, but her album, strange mercy pretty much made me a believer. the album's strongest track was the catchy cruel.
3. helplessness blues: fleet foxes
album: helplessness blues
whereas some of the songs on this list are just fun, catchy songs that make for a good time on a road trip, fleet foxes' helplessness blues doesn't fall into that category. while it's a great song regardless of the lyrics, what made me fall in love with the song is their big, existential questions they ask. few songs about life's purpose turn into good songs, but they managed to do it here.
2. knots: lisa hannigan
album: passengers
i love lisa hannigan. i really do. while i miss her days with damien rice, i couldn't be any more pleased with her solo work. she's not particularly known for catchy hooks and upbeat songs, but man, she pulled it off with knots. this is one of the most fun songs on this list and (don't tell anyone) but i've been known to turn it up in the car and sing loudly. it's truly a frightening experience for any innocent bystanders…
1. otis: kanye west & jay-z
album: watch the throne
yes, kanye west very well might be america's biggest douche and these 2 might just rap about how much money they have, but they sure know how to put it in genius music packages. while most samples serve as a backdrop, they took otis redding's try a little tenderness and featured it, which turned it from gimmick to almost an homage. it's a great song and is the best of 2011
what good would a list of best songs be if you couldn't listen to all of them?
// download the zip //