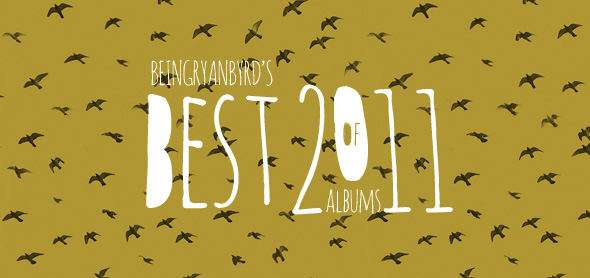 over the course of this week, i've been posting my annual best of lists. as a complete list nerd, this is my favorite time of the year here on the ol' blog. here's the lists i've been posting:
tuesday: best new music discoveries
wednesday: cover songs
thursday: songs
today: albums
the granddaddy of all the end-of-year music lists is the best albums. so here we are.
truth be told, i think 2011 was a bit of a down year for music. don't get me wrong, there was a lot of really good music. but there just wasn't as much great music as the last couple years has produced. either way, there were absolutely some albums that will live on far beyond this year. from 90s brit rock stars to brand new up-and-comers, here's my list of the best albums of 2011:
25. tn ep: derek webb & sandra mccracken
24. love & war & the sea in between: josh garrels
23. the king is dead: the decemberists
22. bon iver, bon iver: bon iver
21. lioness: hidden treasures: amy winehouse
20. ukulele songs: eddie vedder
19. strange mercy: st. vincent
18. barton hollow: the civil wars
17. helplessness blues: fleet foxes
16. mylo xyloto: coldplay
15. cults: cults
14. young love: mat kearney
13. follow me down: sarah jarosz
12. 4: beyonce
11. mondo amore: nicole atkins

10. strange negotiations: david bazan
key track: strange negotiations
famously, on his previous album, curse your branches, david bazan told his story of "breaking up with god". whereas that was a phenomenal album, i was glad that bazan (for the most part) was able to move on with this album. and a great album it was.

9. passenger: lisa hannigan
key track: knots
this was a big step forward from not only her previous album, but even her work with damien rice. this albums features her slow and mellow sound she's been known for, but also has some big highlights that are upbeat and joyous.

8. 21: adele
key track: rolling in the deep
when every end-of-year music list is said and done this year, it's likely that this album will average the highest spot. from indie blogs to mainstream music news outlets, this album was universally accepted and lauded. and it was for very good reason.

7. odd soul: mutemath
key track: odd soul
following their debut, 2009's armistice was a letdown for many long-time mutemath fans. and while odd soul isn't fully a return to that original sound, it's certainly a step back in the right direction. they managed to make a great album that continued to showcase their one-of-a-kind sound.

6. w h o k i l l: tune-yards
key track: bizness
this album came out of nowhere. even before the buzz on indie blogs began, i stumbled across this album and it's afro-indie-eclectic-pop sounds immediately grabbed me. this is one of those albums that was on repeat in itunes for me for at least a week.

5. ceremonials: florence and the machine
key track: shake it off
few albums in 2011 were simultaneously as good, as big and as fun as this album. florence welch's previous album, lungs, was a breakout success and that only serves to create unattainable expectations for the next album. in this case, though, somehow she attained that level of expectations and crafted one of the best albums of the year.

4. noel gallagher's high flying birds: noel gallagher's high flying birds
key track: the death of you and me
when you're a part of one of the biggest bands on planet earth and you decide to make a solo album, it's really a lose-lose situation. either people love oasis and are judging it against that standard or they hate oasis and they write you off. beyond those 2 extremes, noel gallagher made a great album that—in the best sense possible—is the best oasis album in over a decade.

3. el camino: the black keys
key track: lonely boy
much like some of these other albums on the list, the black keys were facing some huge, unrealistic expectations following 2010's brothers. whereas i certainly don't like it as much as that album, it doesn't need to be judged against anything. on its own, it's a great album in which the black keys turned up the tempo and the volume and made a great rock record.

2. watch the throne: jay-z and kanye west
key track: otis
i'm a huge kanye fan and a moderate jay-z fan, but often, when any kind of supergroup forms, the whole isn't nearly as good as the parts. and while i'll say that i prefer a kanye solo album, watch the throne was absolutely a huge success for these 2 kings of the current hip hop world. even with the incessant talk of how big their bank accounts are, they managed to make one of the best albums of 2011.

1. build a rocket boys!: elbow
key track: lippy kids
the theme of not-quite-as-good-as-the-previous-album-but-still-great continues with this selection. no, it isn't the seldom seen kid but it doesn't matter. elbow managed to craft one of the most beautiful and poignant albums in quite some time. from grandiose stadium anthems to understated poetic songs, this album is a treat from start to finish.
what good would a list of best albums be if you couldn't get at least a little sample of each album?
// download the zip //