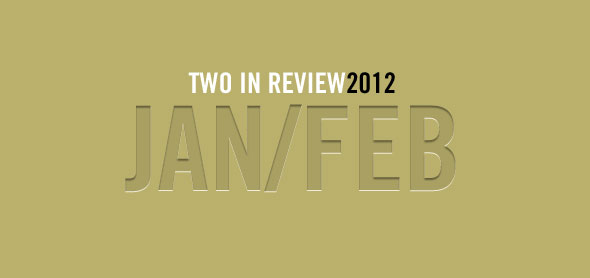 in mid-2010, i began a new blog series in which i compiled a mix of the best music i had discovered in the preceding two months. the series and mixes are called, two in review. you can read the original post for details of why i started this.
if you've missed past editions, here's the posts from 2011:
another couple months have passed by, so it's time to once again bring you two in review. music tends to come in waves and the last couple months have been a big wave. this list could've easily been double (or more) the lengh. in other words, a lot of good music has been left off. the good part about that is that i think this mix is particularly good, with new music ranging from solo work from jack white to kid cudi's new rock project to an amazing collaboration featuring the best half of outkast.
here's the lineup for the first edition of 2012:
1. fun.: some nights [from some nights]
2. gorillaz (ft. james murphy & andre 3000): doyathing [from converse's 3 artists, 1 song series]
3. punch brothers: don't get married without me [from who's feeling young now?]
4. sleigh bells: comeback kid [from reign of terror]
5. first aid kit: the lion's roar [from the lion's roar]
6. chiddy bang: ray charles [from breakfast]
7. he is we (ft. aaron gillespie): all about us [from skip to the good part]
8. david crowder band: oh my god [from give us rest]
9. alunageorge: you know you like it [from you know you like it]
10. wzrd: high off life [from wzrd]
11. sharon van etten: serpents [from tramp]
12. sugar & the hi-lows: see it for yourself [from sugar & the hi-lows]
13. tennis: origins [from young and old]
14. jack white: love interruption [from his forthcoming blunderbuss]
15. chairlift (ft. das racist's kool a.d.): party [from triple j's like a version series]
16. shearwater: breaking the yearlings [from animal joy]
17. the mynabirds: generals [from their forthcoming generals]
18. eisley: lights out [from deep space]
19. andrew bird: eyeoneye [from his forthcoming break it yourself]
20. the big pink: hit the ground (superman) [from future this]
enjoy!
// download the .zip //