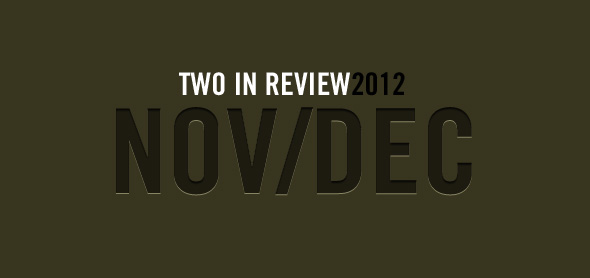 ladies and gentlemen (and others), it's come that time (just by the skin of my teeth…) to once again bring you two in review.
if you've missed past editions, here's the previous posts from 2012:
we've come to the end of another year of 2 in review-ing and this installment has been a bit unusual. as i write this, we're on day number 6 of having no power, so we've been house-hopping and have found ourselves at a different person's house each day. so, i've sorta thrown this together.
nevertheless, i think i've put together a worthy compilation despite the fact that this time of the year is a little slow for new (good) music. as always, i hope you enjoy and that you're able to discover some new music.
without further ado, here's the lineup for the november/december edition of two in review:
1. foals: inhaler [from their forthcoming foals]
2. big boi: in the a (ft. t.i. and ludacris) [from vicious lies and dangerous rumors]
3. islands: hallways [from a sleep & a forgetting]
4. poliça: lay your cards out [from give you the ghost]
5. jamie lidell: what a shame [from his forthcoming jamie lidell]
6. various cruelties: if it wasn't for you [from various cruelties]
7. fiona apple: dull tool [from the this is 40 ost]
8. aerosmith: can't stop loving you (ft. carrie underwood) [from music from another dimension]
9. stephen lynch: the gathering [from lion]
10. bruno mars: when i was your man [from unorthodox jukebox]
11. fiction family: damaged [from their forthcoming fiction family reunion]
12. green day: kid [from tré!]
13. punch brothers: icarus smicarus [from ahoy!]
14. shovels & ropes: birmingham [from o' be joyful]
15. the smashing pumpkins: bullet with butterfly wings (badlands demo) [from mellon collie and the infinite sadness (reissue)]
16. sufjan stevens: christmas in the room [from silver & gold]
17. dylan leblanc: i don't want to know [from rumours revisited]
18. wu-block: bust shots (ft. inspectah deck) [from wu-block]
19. guards: giving out [from in guards we trust]
20. foxygen: shuggie [from we are the 21st century ambassadors of peace and magic]
enjoy!
[download id="5″ format="1″]