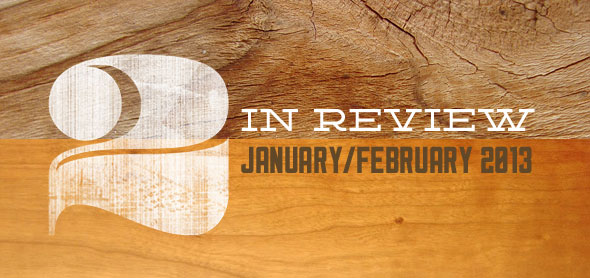 ladies and gentlemen (and others), we're a couple months into a new year which means it's that time to once again bring you two in review. believe it or not, this is year number 3 of this series, so i'm excited to still be plugging along. i hope you're enjoying it as well.
if you missed the final post of 2012, you can find that here. (or you can view the two in review archive.)
typically, the start of a new year is a slow time for new music. this year was no different. with the exception of music from fiction family, frightened rabbit and the lone bellow (and a couple others), there weren't a lot of major highlights in january. february, though, picked up and helped to make for a pretty good collection this month.
my favorite two in reviews are ones that offer a broad spectrum of music and this one certainly doesn't disappoint. so without further ado, here's the lineup for the january/february edition of two in review:
1. jamie lidell: i'm selfish [jamie lidell]
2. thao & the get down stay down: we the common (for valerie bolden) [we the common]
3. justin timberlake: mirrors [from his forthcoming the 20/20 experience]
4. kitty: scout finch (ft. antwon) [d.a.i.s.y. rage]
5. fiction family: guilt [reunion]
6. alunageorge: attracting flies [from their forthcoming body music]
7. frightened rabbit: the woodpile [pedestrian verse]
8. chvrches: recover [recover]
9. leagues: you belong here [you belong here]
10. everything everything: cough cough [arc]
11. holly williams: without you (ft. jakob dylan) [the highway]
12. the strokes: one way trigger [from their forthcoming comedown machine]
13. the lone bellow: bleeding out [the lone bellow]
14. timbaland: the party anthem (ft. missy elliott, lil wayne & t-pain) [timbaland thursdays]
15. james blake: retrograde [from his forthcoming overgrown]
16. darwin deez: you can't be my girl [songs for imaginative people]
17. jessie ware: what you won't do for love [if you're never gonna move]
18. asap rocky: 1 train (ft. kendrick lamar, joey badass, yelawolf, danny brown, action bronson & big k.r.i.t.) [long. live. asap.]
19. ra ra riot: beta love [beta love]
20. autre ne veut: ego free sex free [anxiety]
enjoy!
[download id="9″ format="1″]