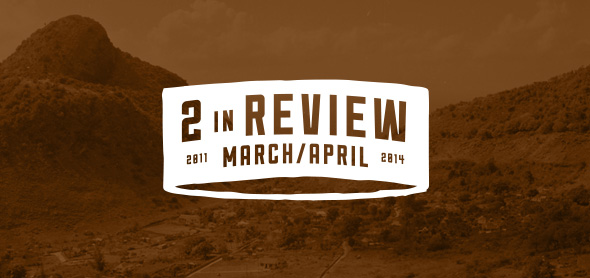 greetings friends. it's come that time again. what time, you ask? time for another installment of our favorite blog series, two in review.
if you've missed any past reviews, you can view the two in review archive.
generally speaking, january and february tend to be the slowest months for new music. that certainly wasn't the case this year. there was a mound of good new music. turns out that march and april countered the gush of new music at the beginning of the year with a slow trickle these last couple months.
nevertheless, there was still a lot of good music and i think this mix came out pretty strong. hopefully you'll agree.
so, here's the lineup for the march/april edition of two in review:
1. manchester orchestra: top notch [from cope]
2. betty who: alone again [from slow dancing]
3. elbow: honey sun [from the take off and landing of everything]
4. nickel creek: rest of my life [from a dotted line]
5. tune-yards: time of dark [from nikki nack]
6. teen: not for long [from the way and colour]
7. needtobreathe: brother [from rivers in the wasteland]
8. black atlass: blossom [from young bloods]
9. future: benz friends (ft. andre 3000) [from honest]
10. dan croll: in/out [from sweet disarray]
11. the secret sisters: i cannot find a way [from put your needle down]
12. john mark mcmillan: love at the end [from borderland]
13. wye oak: glory [from shriek]
14. paloma faith: can't rely on you [from a perfect contradiction]
15. dan wilson: love without fear [from love without fear]
16. the black keys: fever [from turn blue]
17. future islands: season [from singles]
18. ray lamontagne: she's the one [from supernova]
19. intergalactic lovers: islands [from little heavy burdens]
20. mø: pilgrim [from no mythologies to follow]
get your download on, folks.