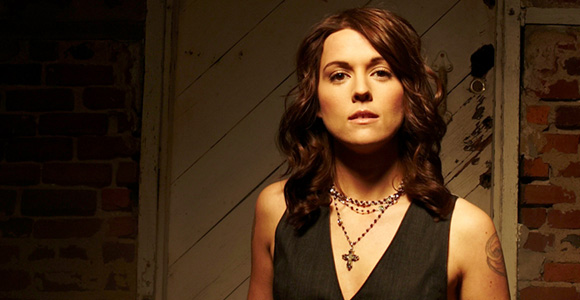 it's been awhile since our last installment in an ongoing series of posts called music you should know (the last being the dirty projectors' bitte orca). this is a chance for me to talk about some of the music i've discovered that may not be that well known, but is definitely worth being made well known. now, i'm not claiming all this music will be obscure, as i'm sure many of you might possibly know this stuff, but it's stuff that isn't hyped all the time in the mainstream and known by the average music listener.
in this series, i hope to keep it brief by simply giving three reasons you'll like it. short and sweet (in theory…). ok, here we go.
it seems that good music comes in waves—at least music i like. over the last month or so, the wave has been at its peak. whereas there's been a handful of albums that could have easily made a mysk post, brandi carlile's latest effort, give up the ghost, stands out above the rest.
a couple years ago, i heard that t-bone burnett was working with some basically unknown artist named brandi carlile. being that i generally like his stuff, i decided to check out the album, the story, when it released. i can easily say that the story is one of the definitive albums for me over the last couple years. the way carlile weaved together folk, indie, alt country and a bit of rock-n-roll swagger was something i hadn't heard before. so, as today's release date for give up the ghost drew ever closer, i nervously anticipated hearing an album that could never live up to the hype i had built based on her previous effort.
i was wrong.
so, here's the reasons you should know this music:
1. brandi carlile transcends genres. there's something for a lot of people to connect with. she's as much early radiohead as she is johnny cash or the indigo girls or patty smith. even with that said, though, there's something much more transcendent about her music than cheap comparisons. she indie. but she's folk. but then she's alt country. but she's also a little americana. whatever category you might stuff in her in, one of the most universally compelling connecting points is her incredible voice, ranging from the highest of highs to the mid-tone growl of johnny cash.
2. her duet with elton john, caroline, is worth a listen. whereas a lot of big name duets just sort meet in the middle of the two, forming some kind of mediocrity, this duet is actually creative and interesting. the play off of john's distinctive voice paired with carlile's rangy voice is a good match. also, elton john lends piano to the track, making it an upbeat bar tune in the midst of an album with a lot of weighty content. it's, by far, not the standout track on the album, but it's certainly worth a listen.
3. undoubtedly, the album's crowning achievement is the closing track, oh dear. whereas you can listen to it below for yourself, let me offer my own piecemeal description: 1 part judy garland, 1 part fiona apple's extraordinary machine, 1 part the beach boys' god only knows and 1 part amazing. it's a beautiful cap to the album, featuring her long-time collaborators and producers, the twins (phil and time hanseroth), who sing perfect and haunting background vocals. live, she performs this with the twins around a shared mic and whereas i can only imagine its power live, it still manages to bring a chilling beauty in its recorded form.
so, take a listen. it's incredibly difficult to pick a single track, so i didn't. 🙂 here's a couple tracks to show the diversity of the album. i mentioned oh dear, but wanted you to hear dying day also to get a feel for some of the johnny cash influence with its chugging melody.