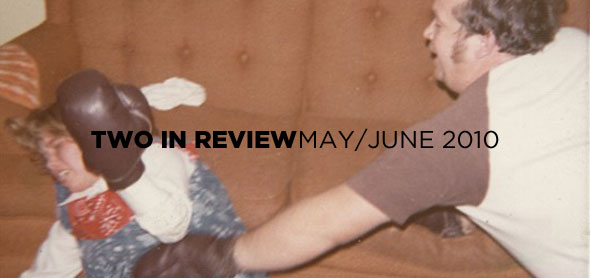 i consume a lot of music. it's probably some kind of music ADD thing. i should probably seek out some kind of music junkies anonymous meeting or engage in some kind of full-out intervention. ultimately, i just love music and thus, consume quite a bit on any given week or month.
as the long-time (or even short-time, i guess) blog readers know, i write about and review music semi-regularly. for awhile, i was attempting to write a series simply called, music you should know, which featured some of the new music i was discovering. as with most of my well-intentioned series, it didn't last. but, consistently, i really would like to share about the new music i'm discovering. often, it just gets lost in the shuffle of more pressing blog posts and generally speaking, if it goes past a few weeks of its release date, i tend to just move on. regretfully, many great albums that are worth sharing about go unmentioned on the blog.
i'm going to attempt to remedy that problem. starting today, i'm going to focus on an overview of a couple month's worth of new music, rather than reviewing individual albums (i will likely still do that a little, if time allows or i fell particularly compelled). every two months, i plan to publish a downloadable mix called two in review. it will feature 20ish standout tracks from the standout albums i've bought over the previous 2 months. so, for this inaugural edition, it will feature music that was either released or i obtained in the months of may and june. the subsequent release will be for july/august and so on.
hopefully this will offer an opportunity for you to discover some new music and also give me suggestions of albums that i might have missed. so, please, leave some feedback.
alright, here's the lineup for two in review: may/june 2010:
1. Alex / The Punch Brothers [from Antifogmatic]
2. Tightrope (ft. Big Boi) / Janelle Monae [from The ArchAndroid]
3. Rill Rill / Sleigh Bells [from Treats]
4. Shutterbug / Big Boi [from the forthcoming Sir Lucius Leftfoot]
5. I Can't Get Enough / Rooney [from Eureka]
6. Power (Feat. Dwele) / Kanye West [from the forthcoming Good Ass Job]
7. What I Need / Ellery [from This Isn't Over Yet]
8. Everybody's Hurting / Jakob Dylan [from Women + Country]
9. Get Higher / Paper Tongues [from Paper Tongues]
10. Beg Steal or Borrow / Ray LaMontagne [from the forthcoming God Willin' & the Creek Don't Rise]
11. On Yer Bike! / Kevin Max [from the forthcoming Cotes D'Armor]
12. Who's Gonna Save My Soul / Derek Webb [from Democracy, Vol. 1]
13. Sinister Kid / The Black Keys [from Brothers]
14. Mixtape / Tift Merritt [from See You on the Moon]
15. So Sleepy / Fiona Apple ft. Jon Brion and the Punch Brothers [from Chickens in Love]
16. Lions / Samantha Crain [from You (Understood)]
17. The Ghost Who Walks / Karen Elson [from The Ghost Who Walks]
18. See You In The Spring / Court Yard Hounds [from Court Yard Hounds]
19. New Wonders / Sandra McCracken [from In Feast or Fallow]
20. Lord Don't Slow Me Down / Oasis [from Time Flies… 1994-2009]