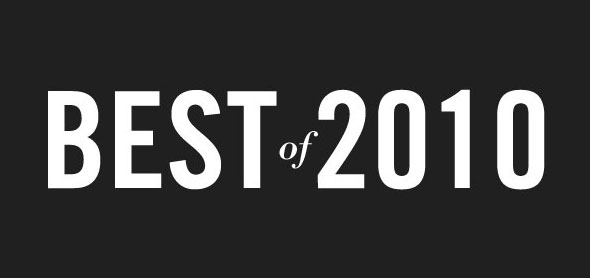 a couple days ago, i began my look back at 2010 with my list of best tv shows and continued yesterday with my new music discoveries. each day this week, i'll post a list that presents my 25 favorite of the given category. here's the lineup for the week (each day i'll come back and update this list with links):
monday: tv shows
tuesday: new music discoveries
wednesday (today): cover songs
thursday: songs
friday: albums
with such a high saturation of artists vying for our musical interest, they have to do something to spark interest and catch listeners' ears. what better way to do that than by crafting a perfectly executed cover? yes, a cover can certainly come off as just another bar band playing freebird, but if done right, it can launch an artist into prominence. this list documents the latter. while there are certainly are some well established artists, there's also a great mix of up-and-comers who are just getting started.
with all that said, here's the list.
25. beck (ft. jamie lidell): books of moses (skip spence)
24. amanda palmer: fake plastic trees (radiohead)
23. the black keys: never gonna give you up (jerry butler)
22. she & him: fools rush in (rick nelson)
21. punch brothers: reptilia (the strokes)
20. brandi carlile: all you need is love (the beatles)
19. lissie: nothing else matters (metallica)
18. robert plant: angel dance (los lobos)
17. carolina chocolate drops: hit 'em up style (blu cantrell)
16. the bird and the bee: maneater (hall & oates)
15. the tallest man on earth: graceland (paul simon)
14. regina spektor: no surprises (radiohead)
13. punch brothers: packt like sardines in a crushd tin can (radiohead)
12. dirty projectors: i dreamed i saw st. augustine (bob dylan)
11. jimmy fallon (as neil young) and bruce springsteen: whip my hair (willow smith)
10. hugo: 99 problems (jay-z). who's hugo? i have no idea. and that's the beauty of a cover. never would i have heard of hugo, but he made a great, paradoxical version of a classic jay-z song. and you want to know the power of a cover? take a look at the browser title on the homepage of his website. yeah.
09. lissie: pursuit of happiness (kid cudi). ah, lissie. she's obviously on this list several times and she's a perfect example of how a good cover (or 3) can launch you and place you in the "conversation" of current and relevant music. much like hugo's 99 problems, the juxtaposition of her style and the kid cudi is a perfect fit.
08. derek webb: where the streets have no name (u2). you gotta have some balls to cover a song this big and this well known. how do you improve on greatness. well, in fairness, you probably don't, but you can certainly create your own version of greatness. derek webb did exactly that with this cover.
07. beck (ft. st. vincent): never tear us apart (inxs). i have little doubt that whatever beck works on will be great. but when you throw in st. vincent and a really great song, beck creates music gold. as a part of his ongoing record club series, this song stood out among the other great covers.
06. the bird and the bee: rich girl (hall & oates). it's hard to go wrong with an ironic hall & oates cover, right? the bird and the bee create quirky indie pop and it made for a perfect partner to hall & oates' brand of 80s pop.
05. andre 3000: all together now (the beatles). as much as i love big boi, andre 3000 has always been the driving force, in my opinion, of everything that makes outkast unique and innovative. so, leave it to him to take a beatles tune and craft a quirky, light-hearted cover.
04. amy winehouse: it's my party (lesley gore). i miss you amy winehouse. seriously. and while we're still awaiting your next brilliant album, we'll settle for this cover of a song that seems written specifically for your voice and for mark ronson's always-genius production. (but seriously, make that next album already.)
03. cee lo green: no one's gonna love you (band of horses). i have a hard time imagining cee lo making music that isn't beautiful and strange and wonderful and great all at the same time. it really doesn't even matter if he wrote it or if some indie band wrote it. it's gonna be gold when he gets ahold of it.
02. lissie: bad romance (lady gaga). i can't stand lady gaga. i truly don't get what people see in her. so that underscores how great this cover by lissie is. she's made me love a song that i can't stand when coming from the original artist. that's how you make a cover.
01. derek webb: hallelujah (leonard cohen). i literally rolled my eyes when i saw he was covering this song, yes, it's a great song, but how many more people can cover it? and then i listened to it. never have i heard a version like his with a crunchy, lo-fi 60s psychadelic vibe. yes, all those words apply. and yes, it all works to make a great cover song.
so there you have it. there's the list. what do you think? i've certainly missed some good songs. what are they? i've also, no doubt, ranked some things too high or too low. what are they? help me to flesh out and "correct" my list.
and since it's christmas time, i thought i'd give a little gift. here's a mix that features all the aforementioned tracks. enjoy.
// click to download the .zip //
see you in tomorrow with my next list: top 25 songs of 2010.