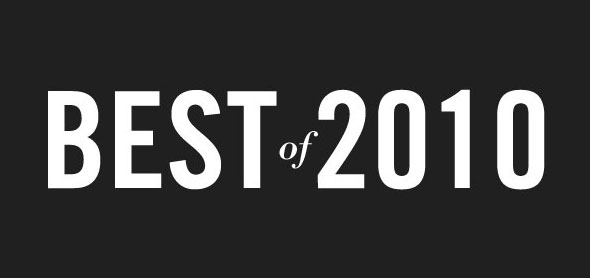 a few days ago, i began my look back at 2010 with my list of best tv shows and continued the last couple days with my lists of new music discoveries & cover songs. each day this week, i'll post a list that presents my 25 favorite of the given category. here's the lineup for the week (each day i'll come back and update this list with links):
monday: tv shows
tuesday: new music discoveries
wednesday: cover songs
thursday (today): songs
friday: albums
quite frankly, creating these lists is definitional comparing apples to oranges. none is more like that than best songs of the year. i mean, ultimately, how do you really compare a kanye west song to an adele song or a she & him song? so, more than the other lists, this one is likely much more open to debate and general disagreement. ultimately, i tried to strike a balance between which songs have an enduring greatness and which made an big impact on me upon first listen. there are certainly songs that blew me away upon first listen, but i now find myself skipping over them (due to over-exposure or being surpassed by other great songs). so, for now, this is the list i settled on.
25. ray lamontagne & the pariah dogs: for the summer (god willin' & the creek don't rise)
24. kanye west (ft. pusha t): runaway (my beautiful dark twisted fantasy)
23. the black keys: tighten up (brothers)
22. john mark mcmillan: carbon ribs (the medicine)
21. sleigh bells: rill rill (treats)
20. janelle monae (ft. big boi): tightrope (the archandroid)
19. horse feathers: thistled spring (thistled spring)
18. the black keys: everlasting light (brothers)
17. jenny & johnny: my pet snake (i'm having fun now)
16. adele: rolling in the deep (21)
15. courtyard hounds (ft. jakob dylan): see you in the spring (courtyard hounds)
14. mark ronson & the business intl: the bike song (record collection)
13. big boi: shutterbugg (sir lucious left foot: the legend of chico dusty)
12. she & him: don't look back (volume 2)
11. kanye west (ft. dwele): power (my beautiful dark twisted fantasy)
10. arcade fire: we used to wait (the suburbs). it's difficult to talk about this song apart from the incredible and innovative online video experience that accompanied it. before the website's release, the song was strong, but when the visuals were added, it took it to a new experiential level.
09. ray lamontagne & the pariah dogs: god willin' & the creek don't rise (god willin' & the creek don't rise). ray lamontagne can just flat out create beautiful music. his latest album, god willin' & the creek don't rise was full of beautiful music, but none more than its title track. if you're feeling stressed out, just put this song on and you'll be feeling refreshed by the end of the song.
08. punch brothers: missy (antifogmatic). this is an interesting choice for me because for the first few weeks of owning this album, it was literally one of the couple tracks i skipped over. i did the dreaded judge a track by the first 10 seconds and didn't get hooked. but then i listened. and i fell in love. it's yet another beautifully crafted track by chris thile.
07. kevin max: walking through walls [just to get to you] (cotes d'armor). when kevin max puts his mind to it, there's no denying that he can write amazing pop songs. whereas this album, cotes d'armor was largely disappointing, this track stood out and can stand up against any song he's written in his entire catalogue.
06. jakob dylan: everybody's hurting (women & country). mix together some timely and poignant lyrics with a catchy western-sounding jangle (along with dylan's voice) and you've got a great track. of all the great songs on this album (which you'll see tomorrow in my best albums list), this is the track i still come back to most often.
05. kanye west (ft. bon iver, rick ross, jay-z & nicki minaj): monster (my beautiful dark twisted fantasy). when kanye released this as one of his GOOD friday tracks, everything changed in terms of our expectations for his yet-to-be-released album. this is like the modern rap version of michael jackson's thriller, which features one of the craziest verses of the year by nicki minaj.
04. matt & kim: cameras (sidewalks). of all the tracks on this list, this one has the biggest dose of pop energy and fresh vitality. matt & kim are based in brooklyn and this track just feels like you should be listening to it in your earbuds while walking through the streets of new york in spring. great energy. great track.
03. arcade fire: rococo (the suburbs). this track has some kind of strange, almost dark, draw to me. compared to some of the other tracks on the suburbs, it sorta flew under the radar, but i find it to be the most mysterious and lyrically compelling. this imagery of these strange city kids speaking strange language hits home with me and puts you directly into the narrative being told on the suburbs.
02. the black keys: howlin' for you (brothers). i have to admit that as much as i love this track, it almost gets bumped up a spot or 2 because of all people, my kids love this track. 🙂 howlin' represents everything great about the black keys' album: it's swampy, lyrically intriguing and just a little bit sexy.
01. cee lo green: f*** you (the ladykiller). the first time i heard this track, it was like nothing i'd ever heard before. even with its old school soul influence, it's the most fresh and unique track of the year. sure, the "hook", for many people, is the overt use of the f-bomb, but as you can tell from my inclusion of the radio version on my mix, it still stands up with its removal. it's clever, it's smart, it's just good and in my humble opinion, it's head and shoulders above any song of 2010.
so there you have it. there's the list. what do you think? i've certainly missed some good songs. what are they? i've also, no doubt, ranked some things too high or too low. what are they? help me to flesh out and "correct" my list.
much like my other lists, i thought i'd give a little gift. here's a mix that features all the aforementioned tracks. enjoy.
// click to download the .zip //
see you in tomorrow with my next list: top 25 albums of 2010.