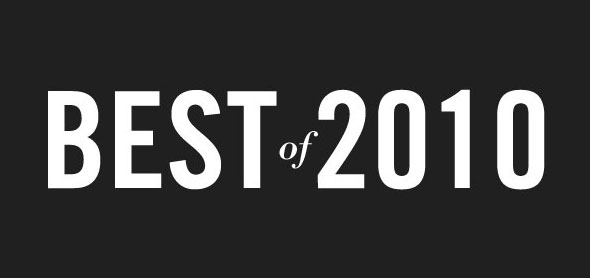 earlier this week, i began my look back at 2010 with my list of best tv shows and continued the last couple days with my lists of new music discoveries, cover songs and songs. today concludes this week's series, in which i've posted a list that presents my 25 favorite of the given category. here's the lineup for the week (each day i'll come back and update this list with links):
monday: tv shows
tuesday: new music discoveries
wednesday: cover songs
thursday: songs
friday: albums
to me, this is the granddaddy of all year-end lists. i'm still an albums kind of guy, as opposed to a single here and there. i like to sit down and listen to a collection of songs that were intended to go together. i think i've been able to narrow in on some of the truly great collections of music from 2010. from "emo rap" to throwback pop to a dark, twisted super-ego, there's a little bit of everything (even, somewhat surprisingly, something that verges on country…). so, be sure to go check these albums out and see if my you agree with my conclusions.
with further ado, this is my list of top 25 albums of 2010
25. kevin max: cotes d'armor
24. kid cudi: man on the moon II: the legend of mr. rager
23. caedmon's call: raising the dead
22. sufjan stevens: the age of adz
21. matt & kim: sidewalks
20. big boi: sir lucious left foot: the legend of chico dusty
19. john mark mcmillan: the medicine
18. broken bells: broken bells
17. courtyard hounds: courtyard hounds
16. she & him: volume 2
15. mumford & sons: sigh no more
14. girl talk: all day
13. derek webb: democracy volume 1
12. derek webb: feedback
11. mark ronson & the business intl: record collection
10. jenny & johnny: i'm having fun now. bob boilen summed this album up perfectly in his advanced listening: it's better than jonathan rice's solo material, but not as good as jenny lewis' solo work. that doesn't tell you that jenny & johnny's debut isn't good, but more about how great lewis' solo work is. this is a great 60s california rock album that sounds like something that should be released in 2010.
09. arcade fire: the suburbs. if you would have asked me even a month after this album came out if it would have been in my top 10 albums of 2010, i would have laughed long and loud. why? because i literally refused to listen to it. there was way too much fanboy hype swirling around this album and i was ready for it to go away before it even came. but then i listened to it and, like a sinner who meets a savior, i was dramatically converted
08. michael jackson: michael. this album is cloaked in controversy and the reviews have been mixed. i went into it with low expectations, assuming it would be a hodge podge of poorly mixed/produced tracks that michael jackson never wanted to be released. instead, i was genuinely shocked at how great it was. in my opinion, it's his best material since 1992's dangerous. there are even some flashes of bad, which is a michael jackson we haven't seen in a very long time.
07. lissie: catching a tiger. i heart lissie. and i heart her debut album. it's difficult to fully capture the essence of her album. it's a little bit folk. it's a little bit indie. it's a little bit pop and probably a few other things thrown in. all in all, it's just one great song after another that all just work so well in telling us her story. we'll see if she's able to keep telling her wonderful story.< 06. ray lamontagne & the pariah dogs: god willin' & the creek don't rise. me and ray go way back. since his amazing and stunning debut, trouble, he's not been able to live up to the first album's high standards, despite making several other incredible albums. but just when i had a little flicker of doubt in my mind, ray came back with his band in tow to create one of the most beautiful albums of the year.
05. punch brothers: antifogmatic. as a longtime nickel creek fan (as well as chris thile's solo work), i hate to admit that i was colossally disappointed by the debut punch brothers release, punch due to its nearly total lack of thile's beautiful vocals. with antifogmatic, that completely changed. while still displaying the band's masterful instrumentation, thile's voice is once again showcased and that's a very, very good thign.
04. jakob dylan: women & country. i expected to like this album. but certainly not love it. but i've been wrong before. this album feels like a movie. like a good western—the new western, not the old clichés. dylan will forever live under the shadow of his father, but with this album, he's peeked his head out and shown us that, when partnered with master producer t-bone burnett, can create incredible music that stands on its own.< 03. cee lo green: the ladykiller. after the enormous success of gnarls barkley, where did cee lo have to go? surely his return to solo artist would yield less successful results. and surely we should have known better. cee lo has crafted the most perfect neo-soul/funk/strangebrew album in quite some time. he's taken bits of pieces of what made gnarls barkley great and infused some old school soul in just the right amounts. in the end, he created one of the best and likely most enduring albums of 2010.
02. kanye west: my beautiful dark twisted fantasy. in a recent review, this album was described the best i've heard: it's like an event. that's exactly what it's like. it's larger than life. it's exciting. it's over-the-top in the best possible sense. it's kanye the self-aggrandizer and kanye the self critic. with a host of rap and r&b all-stars in tow, kanye has crafted one of the best rap albums of, at least, the last decade.
01. the black keys: brothers. let me tell you 2 words that do absolutely nothing for me: blues rock. and that's why people should quit using it to describe the black keys. if you would have told me that a "blues rock" album would top my year-end albums list, i would have told you that you simply have no knowledge of my musical tastes. but the black keys have far transcended that label and have created an album that i absolutely cannot get tired of. the production is masterful and dan auerbach's vocals are executed in all the right ways. i really can't say enough about this album. seriously, go get it and you'll thank me.
so there you have it. there's the list. what do you think? i've certainly missed some good albums. what are they? i've also, no doubt, ranked some too high or too low. what are they? help me to flesh out and "correct" my list.
much like my other lists, i thought i'd give a little gift. here's a mix that features a song from each album. enjoy.