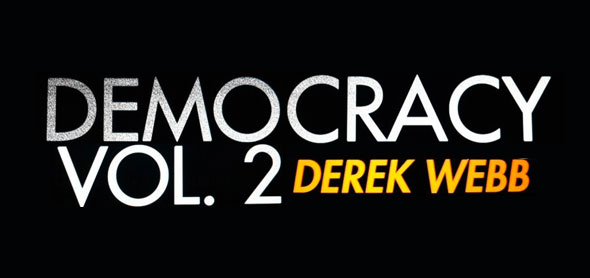 throughout 2010, i blogged about derek webb's latest innovative project called democracy vol. 1. fans were able to cast votes for up to 12 songs that they wanted webb to cover. then, the 12 songs receiving the most votes would be covered by webb for the album. the album was recorded over the span of 2010, with 1 track being recorded and released each month. from january to december, webb released 1 track each month. for those who would like to catch up, here's links to each month's blog posts from 2010:
january | february | march | april | may | june | july | august | september | october | november | december
and here's the 2011 tracklist so far:
1. cee lo green: f**k you
following a stellar first track for 2011, we found out, today, the second installment.
april's track is the 80s classic, livin' on a prayer by bon jovi.
much like march's f**k you, this was a track i voted for (i think) in the final round of voting. when it comes to covers, i like a good novelty. i'm always curious to see what the artist is gonna do with it. do they "legitimize" the track by doing an honest interpretation or do they treat it with a sense of quirky irony? i generally lean toward the ironic side of things, but it's also fun to hear an artist truly polish a turd. (and yes, you're welcome for that analogy.)
in this case, webb's cover falls somewhere in the middle. there's moments i think he's made a legitimately engaging song and then there's moments when i'm convinced this is the musical version of a wink. ultimately, my thumbs up/thumbs down meter is sort of analogous in the sense that i'm just not sure how i feel about it. i think i like it. but maybe i don't?
ok, i'm deciding i like it.
wait, no.
yes, i do.
in the end, i think i do. i really do. it's a good cover. it's able to give a bit of a musical tip of the hat to the 80s while still building a bridge to 2011.
how about, as always, you don't take my word for it. i'm clearly confused. check it out for yourself. here's the track.
derek webb / livin' on a prayer: