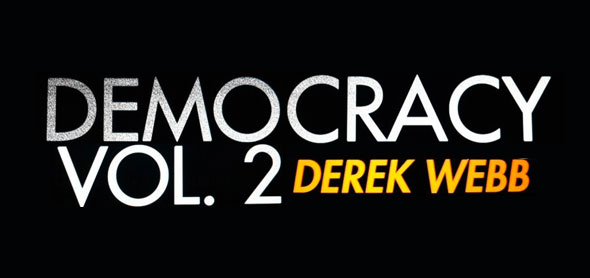 throughout 2010, i blogged about derek webb's latest innovative project called democracy vol. 1. fans were able to cast votes for up to 12 songs that they wanted webb to cover. then, the 12 songs receiving the most votes would be covered by webb for the album. the album was recorded over the span of 2010, with 1 track being recorded and released each month. from january to december, webb released 1 track each month. for those who would like to catch up, here's links to each month's blog posts from 2010:
january | february | march | april | may | june | july | august | september | october | november | december
and here's the 2011 tracklist so far:
1. cee lo green: f**k you
2. bon jovi: livin' on a prayer
today, we found out may's (yes, it's a little late) track: god only knows by the beach boys.
longtime blog readers might suspect that i love the original beach boys song if nothing else than the fact that it served as the intro song for big love for several seasons and played a particularly key role—as a cover by natalie maines—in the closing moments of the season finale. beyond that, it's simply beautiful and a just a great, great song from the beach boys' masterpiece, pet sounds.
derek webb had a lot to live up to. i mean, you don't wanna butcher a classic that was named the best song of the 60s by pitchfork. so how did he do?
he did well. and he did exactly what artists should do: don't screw with the melody. the melody is great and you just don't need to tinker with it too much. tapping into a simple toolbox of a sparse guitar and simple keys, he handles it well. this is a cover i think brian wilson would be pleased with. webb's voice plays well to the delicacy of the song and his handling of the instrumentation is wilson-esque.
as always, don't take my word for it. check it out for yourself. here's the track.
derek webb / god only knows: