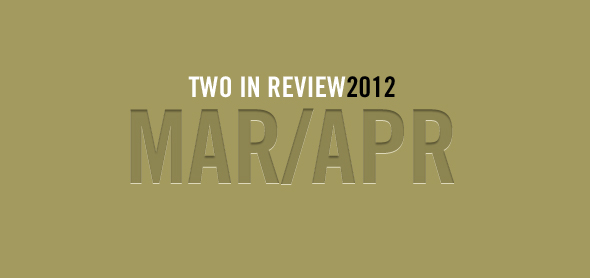 in mid-2010, i began a new blog series in which i compiled a mix of the best music i had discovered in the preceding two months. the series and mixes are called, two in review. you can read the original post for details of why i started this.
if you've missed past editions, here's the previous posts from 2012 (which, at this point, is only 1 mix):
another couple months have passed by, so it's time to once again bring you two in review. i've talked before about how music tends to come in waves. 2012 has begun with a wave that hasn't crested. the last couple months have produced an incredible amount of great music. the bad news is that has forced me to leave a lot of great music off this list. the potential good news (i say potential because i might not have time to do it) is that i'm considering creating a b-sides styles mix of the stuff that didn't make this mix. so, i hope you enjoy.
here's the lineup for the march/april edition of two in review:
1. fiona apple: every single night [from the idler wheel…]
2. alex clare: too close [from the lateness of the hour]
3. santigold: GO! [from master of my make-believe]
4. major lazer (ft. amber coffman): get free [from get free]
5. brandi carlile: that wasn't me [from bear creek]
6. imagine dragons: on top of the world [from continued silence]
7. kanye west: mercy [from mercy]
8. dirty projectors: gun has no trigger [from swing lo magellan]
9. alex winston: fire ant [from king con]
10. the welcome wagon: would you come see me in new york [from precious memories against satan's devices]
11. regina spektor: all the rowboats [from what we saw from the cheap seats]
12. civil twilight: fire escape [from holy weather]
13. sucré: stampede [from a minor bird]
14. electric guest: this head i hold [from mondo]
15. garbage: blood for poppies [from not your kind of people]
16. norah jones: happy pills [from little broken hearts]
17. ladyhawke: black, white & blue [from anxiety]
18. julia nunes: maybe i will [from settle down]
19. estelle (ft. janelle monae): do my thing [from all of me]
20. the neighbourhood: sweater weather [from i'm sorry]
enjoy!
// download the .zip //