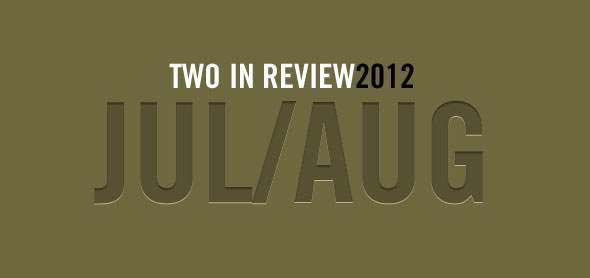 another couple months have passed by, so it's time to once again bring you two in review.
if you've missed past editions, here's the previous posts from 2012:
some of these mixes come together relatively easily and others come together slowly and painfully. this two in review falls in the latter category. for whatever reason, the process of eliminating songs and coming up with the right 20 tracks was particularly laborious. i got to 16 tracks, leaving 4 spots, and had about 30 tracks i was left to narrow down. what this ultimately leads to is 20 really great, diverse tracks that made the mix…and a whole bunch (nearly 30) of really great tracks that didn't make the final mix.
[if you'd like to read a little about the process i employ in order to choose songs, you can read the mini-rant from my last two in review post.]
alright, how about i shut up and get to the mix? i hope you enjoy.
here's the lineup for the july/august edition of two in review:
1. lianne la havas: is your love big enough? [from is your love big enough?]
2. tame impala: elephant [from their forthcoming lonerism]
3. frank ocean: forrest gump [from channel orange]
4. ellie goulding: anything could happen [from her forthcoming halcyon]
5. cory chisel & the wandering sons: never meant to love you [from old believers]
6. alunageorge: your drums, your love [from their upcoming currently untitled debut]
7. derek webb: pressing on the bruise [from ctrl]
8. nas: the don [from life is good]
9. menomena: capsule [from their forthcoming moms]
10. yeasayer: longevity [from fragrant world]
11. no doubt: push and shove [from their forthcoming push and shove]
12. purity ring: belispeak [from shrines]
13. mumford & sons: i will wait [from their forthcoming babel]
14. jessie ware: wildest moments [from devotion]
15. elbow: mcgreggor [from dead in the boot]
16. grace potter & the nocturnals: never go back [from the lion the beast the beat]
17. method man ft. freddie gibbs: built for this [from the forthcoming the man with iron fists ost]
18. alanis morissette : woman down [from havoc and bright lights]
19. divine fits: flaggin' a ride [from a thing called divine fits]
20. josh garrels: cynicism [from love & war: b-sides and remixes ep]
enjoy!
[download id="6″ format="1″]