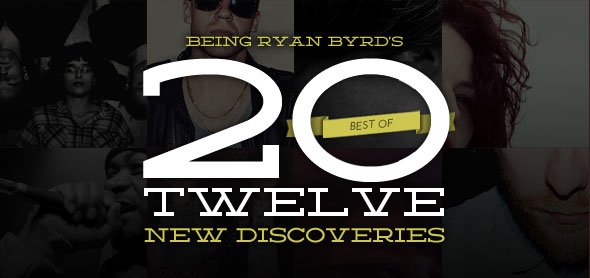 over the course of the next week or so, i'll be posting my annual best of lists. as a complete list nerd, this is my favorite time of the year here on the ol' blog. here's the lists i'll be posting:
today: best new music discoveries
tomorrow (friday): cover songs
monday: songs 30 – 16
tuesday: songs 15 – 1
wednesday: albums 30 – 21
thursday: albums 20 – 11
friday: album 10 – 1
for best new music discoveries of 2012, these are bands that i personally initially discovered during this year. it doesn't mean that they first appeared to everyone or within the industry this year, but rather, i discovered them in 2012. additionally, it includes artists who i've been familiar with for awhile (benjamin gibbard, for example) but released their first solo album in 2012. from up-and-coming electronic indie bands to the newest white rapper, here's my list for 2012:
30. chiddy bang
29. polica
28. kishi bashi
27. the big pink
26. alex winston
25. imagine dragons
24. bahamas
23. alt-j
22. b.o.b
21. page cxvi
20. sharon van etten
19. the neighbourhood
18. electric guest
17. chairlift
16. chvrches
15. wu-block
14. shovels & ropes
13. divine fits
12. purity ring
11. miguel
10. jessie ware
key album: devotion
learn more: jessieware.com


out of the blue around february, i began to see the name jessie ware on every music blog i read. with her track running and eventually with her biggest hit, wildest moments, she became one of the hottest artists of 2012.
9. alex clare
key album: the lateness of the hour (released 2011)
learn more: alexclare.com


clare's debut album released in the UK in mid-2011 with virtually no fanfare in the united states (and very minimally even in the UK), leading to him getting dropped by his label. in march, microsoft (believe it or not) used too close in one of their commercials and he blew up. based almost solely on that track, alex clare makes this list.
8. julia nunes
key album: settle down
learn more: junumusic.com


almost as good as her music is julia nunes' story. she began with acoustic ukulele-driven covers on youtube and quickly became an internet sensation. her debut album, settle down is just the right balance of youtube casual and studio polish.
7. benjamin gibbard
key album: former lives
learn more: benjamingibbard.net


i've tried to become a fan of gibbard's band, death cab for cutie, over the years, but it's never quite connected. his debut solo album, though, finally clicked. it's not perfect, but it's certainly, front to back, a great debut effort.
6. lord huron
key album: lonesome dreams
learn more: lordhuron.com


there's a list of albums i've downloaded from noisetrade only because they were free and while i've become fans of many of those discoveries, none connected more than lord huron. with his harmony-rich brand of layered folk, he's managed to create one of the most compelling and unique albums of 2012.
5. sola-mi
key album: the nexus ost
learn more: sola-mi.com


contemporary christian music singer turns folk singer turns electronic artist turns concept artist. you know, your average musician's career arc. well, leave it to derek webb to pull this off. and pull it off he did. with josh moore and latifah phillips by his side, they crafted what might be my favorite concept album of all-time.
4. father john misty
key album: fear fun
learn more: fatherjohnmisty.com


fleet fox memeber j. tillman took on the moniker father john misty and crafted one of the standout albums of 2012. while the album is great, the track hollywood forever cemetery sings is easily one of the top 2 or 3 songs of the year and puts him this high on the list.
3. ms mr
key album: candy bar creep show
learn more: msmrsounds.com


ms mr was another band that came out of nowhere and began releasing a series of singles with a distinctive dark indie pop sound via their tumblr page. candy bar creep show is only an ep, so there's a good chance we won't have to wait long until more of this great new band's work surfaces.
2. macklemore & ryan lewis
key album: the heist
learn more: macklemore.com


when you're white and you're a rapper, you are easily dismissed. i certainly did when i began hearing about macklemore early this year. when the heist dropped, the buzz was huge and i was largely uninterested. but then i listened. and i was blown away. the passion and craftmanship and raw energy macklemore brings put him near the top of this list.
1. alunageorge
key album: you know you like it ep
learn more: alunageorge.com


i haven't had a good new music crush in awhile, but i'm happy to report that within the first 30 seconds of hearing alunageorge's debut track, you know you like it, i had found one. all they needed was an ep to instantly make them one of my favorite bands. early 90s r&b meet modern indie/electronic sensibilities. everything about that combination works for alunageorge.
if you'd like to learn more about these artists, i've created a mix of songs that will help you discover more.
[download id="1″ format="1″]