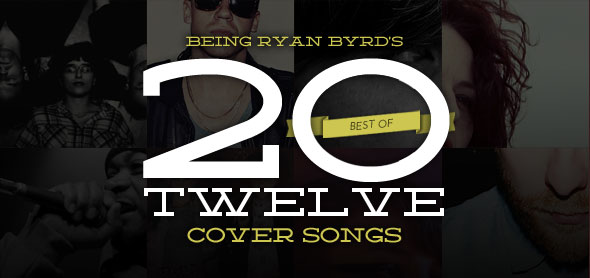 i began posting yesterday—and will continue over the course of the next week or so—my annual best of lists. as a complete list nerd, this is my favorite time of the year here on the ol' blog. here's the lists i'll be posting:
yesterday: new music discoveries
today: cover songs
monday: songs 30 – 16
tuesday: songs 15 – 1
wednesday: albums 30 – 21
thursday: albums 20 – 11
friday: album 10 – 1
i assume that if you don't love a good cover, then you must hate america. they're great. while there's a whole lot of bad covers, there's always a good list (my initial list before narrowing them down included 50+ songs) of great cover songs each year. from established superstars to up-and-comers trying to make a name for themselves online, here's my list of 2012's best cover songs:
30. ring them bells (bob dylan): natasha bedingfield
29. the high road (broken bells): joss stone
28. wake up alone (amy winehouse): manic street preachers
27. gold dust woman (fleetwood mac): karen elson
26. wicked game (chris isaak): phillip phillips
25. (you gotta) fight for you right (to party) (beastie boys): coldplay
24. teeanger in love (dion and the belmonts): red hot chili peppers
23. blue velvet (the clovers): lana del rey
22. 16 tons (tennessee ernie ford): the dandy warhols
21. shout (tears for fears): strangers
20. what i got (sublime): blues traveler
19. crazy (gnarls barkley): bhi bhiman
18. pony (ginuwine): ed sheeran
17. halo (beyonce): lp
16. disarm (smashing pumpkins): paper crows
15. lilac wine (elkie brooks): miley cyrus
14. you're the one i love (the everly brothers): sara watkins ft. fiona apple
13. crazy (patsy cline): the kills
12. jolene (dolly parton): the little willies
11. pyt (michael jackson): the wood brothers
10. settle down (no doubt): steamy in the city


cover songs fall in 2 categories: ironic cover and serious covers. with little-known folk band steamy in the city covering no doubt's latest top 40 hit, this falls squarely in the ironic category. they transform into something new and fresh and fun.
9. she drives me crazy (fine young cannibals): the good natured


who doesn't love the fine young cannibals' she drives me crazy? because it's loved and such a distinctive sound/melody, a good cover understands to keep it close to the fundamentals. that's exactly what the good natured does and thusly, created a great cover song.
8. paper planes (m.i.a.): beautiful small machines


this is a perfect example of a band that no one would've ever heard of if not for the fact that they created a great, ironic cover. m.i.a. creates music that, quite frankly, is hard to decipher, so with beautiful small machines slowing it down and adding a dash of irony, it made this one of the best cover songs of 2012.
7. amie (pure prairie league): counting crows


counting crows' cover project this year was largely disappointing, but amie was a clear exception. adam duritz and crew don't try to reinvent the wheel, but in this case, sticking with the original melody creates instant nostalgia.
6. fallin' (alicia keys): mutemath


as the cliché goes, mutemath could perform the phone book and i'd probably like it. there's just a distinctive sound and vibe to mutemath music and it's no different with alicia keys' breakout hit, fallin'.
5. like a prayer (madonna): dale earnhardt, jr. jr.


their ep, we almost lost detroit, features songs by prominent michigan-born/based artists and naturally, dale earnhardt jr jr's distinctive brand of indie irony couldn't help but to include a madonna classic. it's exactly what you'd think a version of like a prayer covered by dale earnhardt jr jr would sound like…and that's a good thing.
4. no diggity (blackstreet): chet faker


i can tell you very little about chet faker. after hearing this cover, i did a little research, but came away with very little. what's important, though, is that in the handful of no diggity covers i've ever heard, chet faker did it the best. and therefore, it climbs near the top of 2012's best covers list.
3. party (beyonce): chairlift ft. kool a.d.


i didn't fall in love with chairlift quite as much as everyone else in 2012, but i certainly did fall in love with their cover of beyonce's party. the conviction with which frontwoman caroline palochek delivers these vocals is what makes it most endearing.
2. sexy and i know it (lmfao): noah guthrie


ok, noah guthrie wins the award for the "best ironic cover" of 2012. in fact, no one comes even close. this pudgy guy with an acoustic guitar managed to take one of the worst songs of all-time (i'm genuinely not joking) about sexy-proclaimed sexiness and made it relevant. this is the obadiah parker hey ya of 2012.
1. high for this (the weeknd): ellie goulding


there was a part of me that didn't want a "serious" cover to take the top spot, but this one easily won out. it's so hard for an artist to match the soulfulness and conviction of the weeknd's original, but somehow, ellie goulding is able to pull it off. that makes this my favorite cover song of 2012.
what good would a list of cover songs be if you couldn't listen to all of them?
[download id="2″ format="1″]