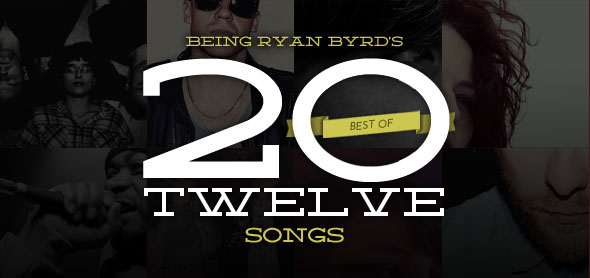 i began posting last week—and will continue over the course of this week—my annual best of lists. as a complete list nerd, this is my favorite time of the year here on the ol' blog. here's the lists i'll be posting:
thursday: new music discoveries
friday: cover songs
yesterday: songs 30 – 16
today: songs 15 – 1
tomorrow: albums 30 – 21
thursday: albums 20 – 11
friday: album 10 – 1
i posted the first half of my favorite songs of 2012 yesterday and now it's time to complete the list. from white rappers to swedish folk duos and everything in between, here's the top 15 songs that made 2012 a great year for music:
15. this girl: punch brothers


this tongue-in-cheek prayer to god has frontman chris thile asking for very little—other than just this one girl. i bet even god likes this track.
14. i feel everything: derek webb


if this list were just about striking and poignant lyrics, this would take the top spots hands down. the gem from webb's stellar ctrl.
13. time to run: lord huron


sometimes artists add layers to songs and they just end up sounding overworked and overproduced. but with lord huron, they manage to hit just the right sweet spot.
12. clique: kanye west (ft. jay-z and big sean)


all in all, i hate to say, but kanye west's cruel summer was largely a dud. this track, though, harkens back to some of kanye's very best work.
11. don't get married without me: punch brothers


the punch brothers always manage to slip in one hidden gem and on who's feeling young now? this beautiful and layered track carries that mantle.
10. every single night: fiona apple


years after her previous release, it was hard to predict what fiona would come back with. the first taste we got was this track and it managed to live up to incredibly lofty expectations.
9. same love: macklemore and ryan lewis


rarely does "message music" connect, coming off as preachy or pretentious. macklemore and ryan lewis, though, pull it off with flawless productions and authentic lyrics.
8. doyathing: gorillaz, james murphy & andre 3000


whereas this track is great from start to finish, there's a not-so-secret formula that they employed to make it a hit: hand andre 3000 the mic and let him do this thing. it's that easy.
7. bad religion: frank ocean


i knew this was a great track, but the first time i heard him perform it live, it gave me chills and i knew frank ocean had crafted something very rare and very special.
6. the lion's roar: first aid kit


you mean you didn't predict 2012 as the year that swedish folk would break through in america? ok, we didn't see it coming but we're sure glad it did.
5. you know you like it: alunageorge


the first time i heard this track, it was a new revelation. take everything great about early 90s r&b and fuse it with everything great about modern electronic indie music and you have alunageorge.
4. about to die: dirty projectors


the dirty projectors somehow manage to get no less weird and experimental, while staying completely accessible and churning out really great music. this track delivers as always.
3. too close: alex clare


microsoft gets most things wrong, but when they released a new commercial in the spring featuring little-known alex clare's too close, this song took the music industry by storm.
2. hollywood forever cemetery sings: father john misty


there's plenty of great tracks on this list that sound like something else. but i can't think of another thing that sounds as unique and fresh as father john misty's best track from this year's fear fun.
1. your drums, your love: alunageorge

did i mention i'm a fan of alunageorge? it's hard to say more about them, but this track took my music crush on them to another level, making it my favorite track of 2012.
i hope for nothing more than these songs being a gateway to more fully discovering these artists, so here's a collection of these songs for your downloading pleasure.
[download id="3″ format="1″]