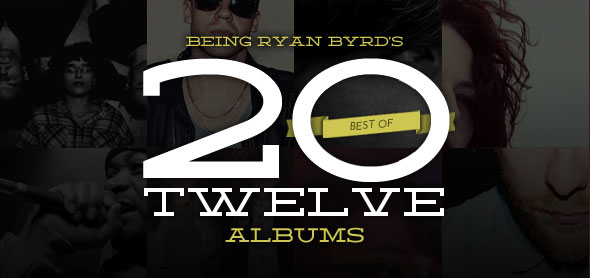 i began posting last week—and will continue the next few days—my annual best of lists. as a complete list nerd, this is my favorite time of the year here on the ol' blog. here's the lists i'll be posting:
thursday: new music discoveries
friday: cover songs
monday: songs 30 – 16
yesterday: songs 15 – 1
today: albums 30 – 21
tomorrow: albums 20 – 11
friday: album 10 – 1
the granddaddy of all the end-of-year music lists is the best albums. so here we are.
i always tell people that there's never a better time for music than right now. i still get excited about album releases and i'm continually impressed by how artists are innovating and creating. 2012 was no exception. there was so much good music that making this list was harder than ever. in the end, i think i've narrowed down to 30 truly great albums.
from tried-and-true artists to up-and-coming rookies, here's part 1 of 3 of the best albums of 2012:
30. babel: mumford & sons


standout track: i will wait
mumford's debut album, sigh no more, took off like a rocket—an unprecedented rocket. while i certainly wouldn't call this a sophomore slump, it certainly didn't achieve those heights.


29. former lives: benjamin gibbard


standout track: something's rattling (cowpoke)
i was never much of a death cab for cutie fan, but frontman ben gibbard managed to make me a fan with a solid debut solo album.


28. kaleidoscope dream: miguel


standout track: adorn
it's good to have some artists making good r&b music again. miguel had a breakout year and while i didn't rank his album as highly as many other best of lists, it still makes the top 30 cut.


27. a minor bird: sucre


standout track: chemical reaction
technically, one could call this a supergroup—composed of eisley's stacy king, mutemath's darren king and jeremy larson—but the final product is fresh and new, unlike many of supergroups of the past.


26. master of my make-believe: santigold


standout track: disparate youth
several years ago when santigold hit the scene with her debut album, the buzz was loud and i was only a partial believer. but with master of my make-believe, i was fully baptized in santigold's unique sound.


25. settle down: julia nunes


standout track: maybe i will
almost as good as her music is julia nunes' story. she began with acoustic ukulele-driven covers on youtube and quickly became an internet sensation. her debut album, settle down is just the right balance of youtube casual and studio polish.


24. r.a.p. music: killer mike


standout track: southern fried
i've been a casual fan of killer mike's ever since i heard him do a guest spot on outkast's the whole world, but with this album, i saw his creative genius fully displayed.


23. not your kind of people: garbage


standout track: battle in me
garbage didn't reinvent the wheel with their first album in 7 years. they didn't need to. ever since they started putting out albums in the mid-90s, their music has been fresh and forward-thinking.


22. candy bar creep show: ms mr

standout track: hurricane
how good was ms mr's debut album? well, it's not actually a full album. it's merely a 4-song ep. that alone speaks to how great this collection is. i'm looking forward to hearing a full length project from them.


21. lonesome dreams: lord huron


standout track: time to run
there's a list of albums i've downloaded from noisetrade only because they were free and while i've become fans of many of those discoveries, none connected more than lord huron. with his harmony-rich brand of layered folk, he's managed to create one of the most compelling and unique albums of 2012.


be sure to check back tomorrow for the numbers 20-11. on friday, i'll reveal the top 10 and offer a download of all the standout tracks.
any guesses of what will make the top 20?