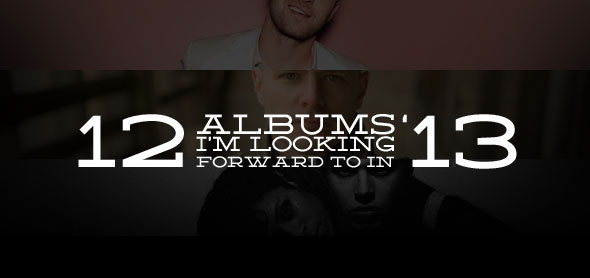 a few weeks into 2013, good new music has been pretty slow to roll in. so it typically goes in the month of january. the shortage has me thinking about albums that i'm anticipating throughout the course of the year. there's a number of albums that have confirmed release dates while others are likely releasing this year but have no hard date for release.
let's start with the albums we know are releasing this year.
the confirmed list

1. justin timberlake: the 20/20 experience
release date: TBA
few albums have been as universally anticipated as this one and it was just last week that we actually found out it would be happening in 2013. after a 6-year hiatus, timberlake announced a new single, suit & tie, that immediately broke the itunes records for most premiere-week digital sales. the bar is set sky-high for this album, so let's hope he's spent the last 6 years figuring out the formula for success.
2. derek webb: i was wrong, i'm sorry & i love you
release date: TBA, fall 2013
just months after the release of his highly anticipated album, ctrl, derek webb surprised fans by announcing he'd be celebrating the 10-year anniversary of his solo debut, she must and shall go free, by recording a follow-up that explores the same themes of the modern church. with his sonic and theological evolution over the last 10 years, this should make for a compelling album.
3. alunageorge: body music
release date: june
at the very top of my best new artists of 2012 list—not to mention the top of my best songs list—was alunageorge. after hearing their first song, you know you like it, i was captivated by this indie-meets-90s-r&b group from london. after a string of incredible songs throughout the pasat 9 months, the expectations for their debut album are incredibly high. we'll find out in june when it releases.
4. natalie maines: mother
release date: may 7
i hate country music. and somehow, i've unabashedly been a fan of the dixie chicks since they burst onto the scene in the late 90s. after a long hiatus, natalie maines, disinterested in country music, is returning in may with a rock-influenced album (produced by ben harper) which will include covers of pink floyd's mother and dan wilson's free life.
5. fiction family: fiction family reunion
release date: january 29
at the tail end of 2008, much to our surprise, switchfoot's jon foreman and nickel creek's sean watkins announced that they'd formed a band called fiction family. after a great debut album in early 2009, they've returned in 2013 for a reunion album. with a couple tracks already floating around on the web, i anticipate an even stronger album this time around.
6. audio adrenaline: kings and queens
release date: march 12
listen, i'm cringing putting this album on this list. i get it. but…there's 2 reasons it made it. first, it's sort of a morbid curiosity. i fully expect cheesy ccm music from a band i loved when i was 14 years old. second, i'm still adjusting to kevin max—one of my all-time favorite artists—fronting a band that seems like an incredible stretch for his sensibilities. we'll wait and see. (and then i'll deny that i own this album…)
and here's the albums that should release in 2013, but there's no guarantee.
the most-likely list

1. arcade fire: currently untitled
release date: TBA, late 2013
i wasn't a fan of arcade fire. and then i heard suburbs. all the hype is merited. with the bar set insanely high for the follow-up, we'll see if arcade fire is able to continue their breakthrough and grammy award-winning success.
2. jenny lewis: currently untitled
release date: TBA, late 2013
let me go ahead and get this out of the way: i love jenny lewis. ok, now that i've said that, i can get to her music. i also happen to love that and we've been patiently waiting since 2008's acid tongue. looks like 2013 will be the year that the waiting will end.
3. black keys: currently untitled
release date: TBA, late 2013
the black keys have been putting out albums for more than a decade now and with the 2010 release of brothers and 2011's el camino, they've shown no signs of slowing down. there's certainly no reason to believe this album won't be another commercial and critical success.
4. u2: 10 reasons to exist (rumored title)
release date: TBA
haven't we been talking about this supposed album for several years now? alas, it finally appears that it will actually happen. u2 is in a stratosphere by themselves and with that comes immense expectations. so let me go ahead and make a prediction: the album will be good…and the critics will hate it. happy 2013.
5. jay-z: currently untitled
release date: TBA
remember when jay-z retired? yeah, about that. people seem pretty confident that he's currently finalizing his twelfth studio album—a follow-up to 2009's the blueprint 3. i'm actually not a huge jay-z fan, but certainly, his albums are always worth the hyped lead-up to release.
6. kanye west: currently untitled
release date: TBA
alright, this one shouldn't be on this list, but i really want it to happen. consider this the power of positive thinking. there's been no official rumors of a new album this year, but kanye isn't one to publicize the fact that he's working on new material. i'm not holding my breath, but it could happen.
alright, so there you have it. i'm sure there's plenty more great albums scheduled to release this year, but this, at least, gets us looking ahead.
what albums are you anticipating in 2013?