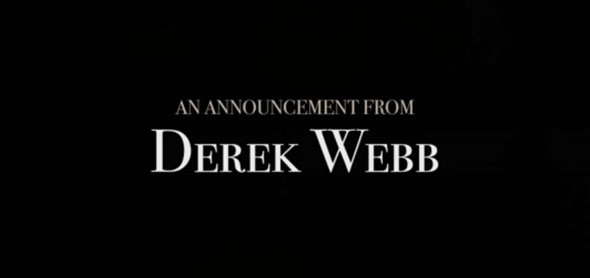 on march 25, 2003, derek webb officially flipped the switch on his solo career with the release of his debut album, she must and shall go free. the album was a call to action and critique of the modern church which signaled a solo journey that would be characterized by controversy and an unpredictable evolution.
we're fast approaching the album's 10-year anniversary and today, derek webb made a couple announcements related to that anniversary. first, he announced he is releasing the album for free on noisetrade. you can download it, for a limited time, here. further, he announced that he'd be going on an anniversary tour throughout april and may in which he'll play the entire album straight through.
these announcements were relatively straight forward. there was one, though, we didn't see coming. in the video embedded below, webb announced that he's nearly finished with a new—yes, just months after the release of his last album, ctrl—album, titled i was wrong, i'm sorry and i love you. he says the album picks up on the themes of she must and shall go free.
it'll be interesting to see what direction this album takes, both theologically and musically. it's hard to imagine he'll completely return to the same as she must and shall go free for either of those things. i don't expect a drastic theological/ideological departure, but, as with most of us, views evolve over the course of a decade. musically, webb's music has moved in such a different direction that it's particularly hard to imagine the new album being a direct sonic companion. i suspect, though, that there will at least be a nod to those earthy, folky sounds.
so, we'll wait and see. should be a fun project. check out webb's video announcement below.