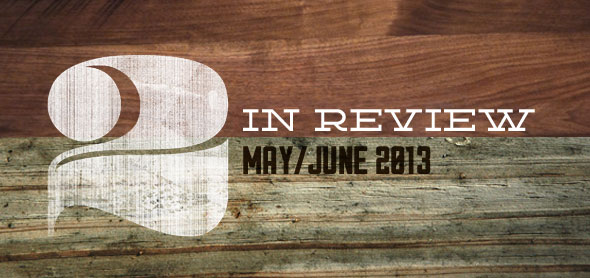 it's hard to believe, but 3 years ago this week, i posted the first ever two in review. since that time, there's been thousands of downloads and a lot of great feedback. it's been fun to look back and track what i was listening to at any given time (it's also been moderately cringe-worthy at times to see what music i was listening to/recommending…). i look forward to these posts every couple of months and this collection is no different.
if you've missed any past reviews, you can view the two in review archive.
this is probably the strongest mix of songs from this series. out of these 20 tracks, 8 of them were on my best songs of 2013 (so far) list. so, there's a lot of really good stuff here. hopefully you feel the same and enjoy.
so without further ado, here's the lineup for the may/june edition of two in review:
1. queens of the stone age: my god is the sun [from …like clockwork]
2. kanye west: send it up (ft. king louie) [from yeezus]
3. lorde: tennis court [from tennis court ep]
4. ciara: body party [from ciara]
5. mayer hawthorne: her favorite song [from where does this door go?]
6. beady eye: flick of the finger [from BE]
7. neko case: man [from the worse things get, the harder i fight, the harder i fight, the more i love you]
8. derek webb: i was wrong, i'm sorry & i love you [from i was wrong, i'm sorry & i love you]
9. city and colour: harder than stone [from the hurry and the harm]
10. ellie goulding: tessellate [from tessellate]
11. the civil wars: the one that got away [from the civil wars]
12. eisley: currents [from currents]
13. jars of clay: after the fight [from inland]
14. the lonely island: yolo (ft. adam levine & kendrick lamar [from the wack album]
15. ms mr: salty sweet [from secondhand rapture]
16. vampire weekend: unbelievers [from modern vampires of the city]
17. sheryl crow: jukin' [from ghost brothers of darkland county ost]
18. mariah carey: #beautiful (ft. miguel) [from the art of letting go]
19. jay-z: 100$ bill [from the great gatsby ost]
20. johnathan rice: my heart belongs to you [from good graces]
get your download on, folks.