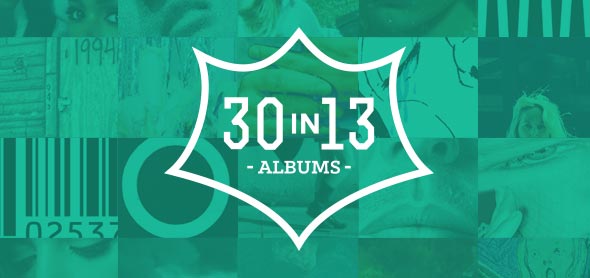 over the course of this week, i've been posting my annual best of lists. as a complete list nerd, this is my favorite time of the year here on the ol' blog.
here's the lists i've been posting:
tuesday: new music discoveries
tuesday: cover songs
yesterday (thursday): songs
today: albums
here we are. the granddaddy of all music lists: best albums. this is the one that gets me most excited to put together. as much as we're dominated by a singles-first music culture, i still prefer to sit and listen to an entire album.
this year, there were a lot of really great albums (my original, off-the-top-of-my-head list consisted of about 70 albums). but, my decision for the top album wasn't as difficult this year as it has been in years past. this was the year of kanye.yeezus was head and shoulders above the rest and naturally, we're all already eagerly anticipating the follow-up.
so without further ado, here's my list for 2013:
30. jamie lidell: jamie lidell
29. be: beady eye
28. bad blood: bastille
27. the movement ep: betty who
26. inland: jars of clay
25. avalanche: quadron
24. indicud: kid cudi
23. mother: natalie maines
22. anxiety: autre ne veut
21. the civil wars: the civil wars
20. the worse things get, the harder i fight, the harder i fight, the more i love you: neko case
19. the beast in its tracks: josh ritter
18. pure heroine: lorde
17. my name is my name: pusha t
16. back to forever: lissie
15. …like clockwork : queens of the stone age
14. i was wrong, i'm sorry & i love you: derek webb
13. secondhand rapture: ms mr
12. the marshall mathers ep: eminem
11. am: arctice monkeys
10. beyonce: beyonce


key track: xo
why? because beyonce has once again made this "i'm-not-a-beyonce-fan" love her album. it was unexpected and just the right change in direction she needed.


9. night time, my time: sky ferreira

key track: you're not the one
why? because in a year where pop music straddled the fence of sugar and credible music, few people toed the line as well as sky ferreira.


8. days are gone: haim


key track: the wire
why? because when a band's music is described as "nu-folk-meets-nineties-R&B", count me in. and in i was.


7. magna carta holy grail: jay z


key track: picasso baby
why? because even when jay z makes an album that people label as "sell-out" and "too mainstream", it's still an album that finds its way into the top 10.


6. the electric lady: janelle monae


key track: primetime
why? because even though i've been a fan of janelle monae for years, this is the album that made me a true believer.


5. body music: alunageorge


key track: your drums, your love
why? because despite having an album half-full of track we heard on last years's debut ep, my top new music discovery of 2012 managed to live up to the hype and make a really great pop album.


4. modern vampires of the city: vampire weekend


key track: step
why? because a band that i thought was overhyped for years finally managed to make something that made me see the light.


3. reflektor: arcade fire


key track: reflektor
why? because they somehow managed to live up to what was—by far—the most hyped and anticipated album of the year.


2. the 20/20 experience: justin timberlake


key track: mirrors
why? because after 6 years, sometimes the magic is gone. in this album's case, though, there was plenty of magic left.


1. yeezus: kanye west


key track: new slaves
why? because kanye managed to strip away everything we loved about his music—and still make us love it.


because sharing is caring, i've created a mix with a track from all 30 albums for your downloading pleasure.