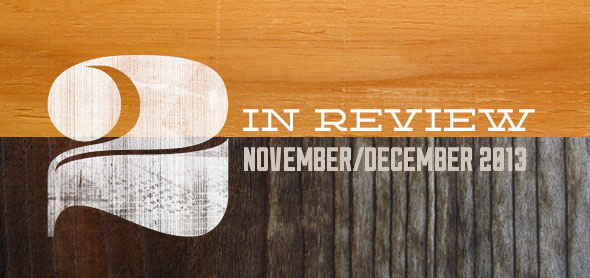 ladies and gentlemen, the clock is ticking on 2013, so that means it's time for another two in review.
if you've missed any past reviews, you can view the two in review archive.
typically, my spiel here is that there was so much good music over the last couple months that it was really difficult to narrow it down. well, not this time. the end of the year is generally a pretty slow time for new music and these last couple months were a particularly stark example of that. so for this edition of two in review, i only came up with 23 tracks worth sharing, which, of course, was whittled down to the 20 i'm sharing here. all in all, though, considering the circumstances, i think it's a decently strong mix.
so without further ado, here's the lineup for the november/december edition of two in review:
1. bastille: flaws [from bad blood]
2. st. vincent: birth in reverse [from st. vincent]
3. timbaland: know bout me [from textbook timbo]
4. lorde: no better [from no better]
5. aaron sprinkle: whisper something [from water & guns]
6. beyonce: drunk in love (ft. jay z) [from beyonce]
7. childish gambino: i. the worst guys (ft. chance the rapper) [from because the internet]
8. dresses: blew my mind [from sun shy]
9. james vincent mcmorrow: red dust [from post tropical]
10. serena ryder: stompa [from harmony]
11. rick ross: the devil is a lie (ft. jay z) [from the devil is a lie]
12. shearwater: i luv the valley oh!! [from fellow travelers]
13. shelby earl: swift arrows [from swift arrows]
14. young the giant: crystallized [from mind over matter]
15. tennis: cured of youth [from small sound]
16. jesse woods: lazerburn [from get your burdens lifted]
17. sia: elastic heart (ft. the weeknd & diplo) [from the hunger games: catching fire ost]
18. the preatures: is this how you feel? [from is this how you feel?]
19. u2: ordinary love [from mandela ost]
20. adam faucett: walking home late [from the muse january sampler]
get your download on, folks.