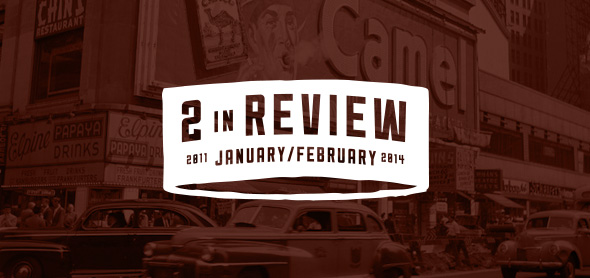 i'm not sure if you've heard, but it's 2014. and that means—a couple months in—it's time for the first two in review of the new year.
if you've missed any past reviews, you can view the two in review archive.
generally speaking, january and february tend to be the slowest months for new music. most artists try to push new releases for the end of the year, so there's a bit of a lull in the new year.
not so much these last couple months.
i had a super hard time trimming down all the good music i've acquired to just 20 tracks. a lot of really good songs didn't make it this time. but, with that said, i think this is a particularly strong mix. hopefully you'll agree.
so without further ado, here's the lineup for the january/february edition of two in review:
1. st. vincent: digital witness [from st. vincent]
2. sam smith: nirvana [from money on my mind]
3. prince: pretzelbodylogic [from pretzelbodylogic]
4. broken bells: after the disco [from after the disco]
5. jenny lewis: completely not me [from girls ost]
6. elbow: new york morning [from the take off and landing of everything]
7. nickel creek: destination [from a dotted line]
8. lake street dive: you go down smooth [from bad self portraits]
9. phantogram: fall in love [from voices]
10. john mark mcmillan: future/past [from borderland]
11. brandi carlile: the chain [from sweetheart 2014]
12. nina persson: food for the beast [from animal heart]
13. pharrell williams: brand new (ft. justin timberlake) [from GIRL]
14. ray lamontagne: supernova [from supernova]
15. damien jurado: return to maraqopa [from brothers and sisters of the eternal son]
16. rick ross: sanctified (ft. big sean & kanye west) [from mastermind]
17. mø: say you'll be there [from say you'll be there]
18. beck: say goodbye [from morning phase]
19. lost in the trees: past life [from past life]
20. nicole atkins: cool people [from slow phaser]
get your download on, folks.