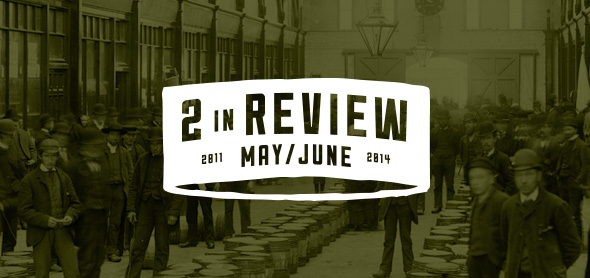 it's come that time again, friends. two months have passed since our last two in review, so let's do it again, shall we?
over the past couple months, the volume of new music hasn't been that great, but the quality of the music has made up for that. with that, i think this installment is particularly strong. there's a little bit of everything here, so i think a range of people can find something they like. as always, i encourage you to explore artists whose tracks you connect with in this mix.
so, here's the lineup for the may/june edition of two in review:
1. sylvan esso: HSKT [from sylvan esso]
2. sam smith: i'm not the only one [from in the lonely hour]
3. justin currie: falsetto [from lower reaches]
4. jenny lewis: just one of the guys [from the voyager]
5. the black keys: year in review [from turn blue]
6. first aid kit: my silver lining [from stay gold]
7. jack white: that black bat licorice [from lazaretto]
8. sleeping at last: the safety dance [from covers, vol. 1]
9. michael jackson: do you know where your children are? [from xscape]
10. tune-yards: left behind [from nikki nack]
11. alt-j: hunger of the pine [from this is all yours]
12. tennis: never work for free [from ritual in repeat]
13. spoon: rent i pay [from they want my soul]
14. phox: slow motion [from phox]
15. the new pornographers: brill bruisers [from brill bruisers]
16. andrew bird: tin foiled [from things are really great here, sort of…]
17. chromeo: come alive (ft. toro y moi) [from white women]
18. david gray: snow in vegas [from mutineers]
19. lana del rey: west coast [from ultraviolence]
20. riff raff: cool it down (ft. amber coffman) [from neon icon]
get your download on, folks.