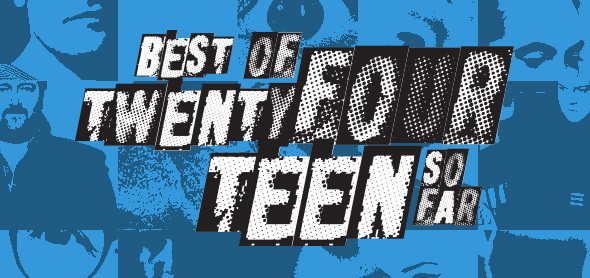 it's hard to believe, but we've made it halfway through 2014. to be frank, it's not been a great year for music. it's not that it's been bad, but there's just not been anything that's really risen far above the rest of the pack. with that said, there was certainly enough good stuff to put together a 'best of' list for the first half of the year. and, i fully expect quite a few of these albums and songs to make it onto my end-of-the-year lists.
with that said, here's the lists of both albums and songs.
albums
20. bad self portraits: lake street dive
19. past life: lost in the trees
18. put your needle down: the secret sisters
17. cope: manchester orchestra
16. stay gold: first aid kit
15. brothers and sisters of the eternal son: damien jurado
14. xscape: michael jackson
13. slow dancing: betty who
12. rivers in the wasteland: needtobreathe
11. borderland: john mark mcmillan
10. sweet disarray: dan croll
9. lazaretto: jack white
8. turn blue: the black keys
7. mutineers: david gray
6. the take off and landing of everything: elbow
5. sylvan esso: sylvan esso
4. supernova: ray lamontagne
3. nikki nack: tune-yards

i loved 2011's whokill, so i nervously awaited the follow-up, crossing my fingers that my high expectations wouldn't be let down. well, they certainly weren't. tune-yards returned with another adventurous album, showing maturity in their sound and in their songwriting.
2. st. vincent: st. vincent

st. vincent has spent years making really incredible, odd, beautiful, strange music. so it continues with this album. led by a few really strong singles, st. vincent has managed to hit her stride, recruiting new fans along the way.
1. a dotted line: nickel creek

i couldn't have had any higher expectations than i did for this album. after an 8-year hiatus, the chances of them being rusty was super high. instead, though, nickel creek managed to not miss a beat, putting out the best album of 2014 so far.
songs
not to be outdone by the albums, here's my favorite songs of the first half of 2014:
20. love at the end: john mark mcmillan
19. in/out: dan croll
18. falsetto: justin currie
17. coffee: sylvan esso
16. rattlesnake: st. vincent
15. top notch: manchester orchestra
14. completely not me: jenny lewis
13. never work for free: tennis
12. alone again: betty who
11. fall in love: phantogram
10. birth in reverse: st. vincent
9. rent i pay: spoon
8. hunger of the pine: alt-j
7. time of dark: tune-yards
6. rest of my life: nickel creek
5. HSKT: sylvan esso
4. destination: nickel creek
3. new york morning: elbow

elbow might be my favorite band, so i eagerly anticipated the take off and landing of everything. it pains me to say that i just wasn't able to get into the album. but. this track. elbow does what they do best: soaring choruses, introspective lyrics and another great song for their ever-growing catalogue.
2. left behind: tune-yards

in several reviews of this album, critics took umbrage with this track for its heavy-handedness in its overt critique of gentrification. i, though, find it to be a message that resonated with me and the track, in typical tune-yards fashion, is both strange and beautiful.
1. digital witness: st. vincent

while this isn't my favorite st. vincent song (it's strange mercy's cruel), it's certainly the best from her latest album and the best so far in 2014. much like tune-yards' left behind, it makes a statement and does so in a very accessible way.
what good would a list of best songs be if you couldn't have a listen? i've zipped them up and you can download them by clicking the button below.