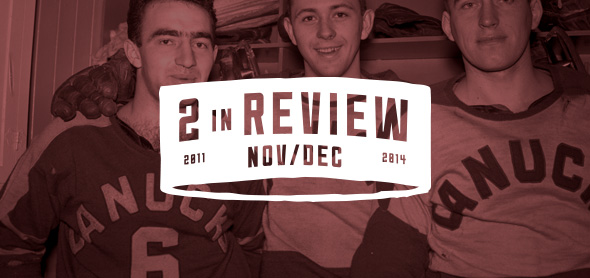 right on the heels of my best-of-2014 music lists, it's time once again, friends, for another two in review.
it's been a really good couple of months of music. the big music news since the last installment was a new track from brandi carlile, which you'll find on this edition. otherwise, there were quite a few stellar offerings from artists like bastille, the decemberists, damien rice, punch brothers, miguel & even madonna. i'm glad to finish the year off with a really legit two in review.
so, here's the lineup for the november/december edition:
1. brandi carlile: the eye [from the firewatcher's daughter]
2. noel gallagher's high flying birds: do the damage [from chasing yesterday]
3. bastille: bite down (ft. haim) [from vs. (other people's heartache, pt. iii)]
4. brooke fraser: start a war [from brutal romantic]
5. the decemberists: philomena [from what a terrible world, what a wonderful world]
6. damien rice: it takes a lot to know a man [from my favourite, faded fantasy]
7. foo fighters: something from nothing [from sonic highways]
8. selah sue: together (ft. childish gambino) [from alone]
9. wu-tang clan: keep watch [from a better tomorrow]
10. mark ronson: uptown funk (ft. bruno mars) [from uptown funk]
11. peter furler band: dare i say [from sun and shield]
12. smashing pumpkins: drum + fife [from monuments to an elegy]
13. lorde: yellow flicker beat [from hunger games most]
14. miguel: nwa (ft. kurupt) [from nwa.hollywooddreams.coffee]
15. dresses: lonely one [from lonely one]
16. punch brothers: my oh my [from the phosphorescent blues]
17. madonna: devil pray [from rebel heart]
18. mother mother: reaper man [from very good bad thing]
19. father john misty: bored in the usa [from i love you, honeybear]
20. mark ronson: feel right (ft. mystikal) [from uptown funk]
get your download on, folks.