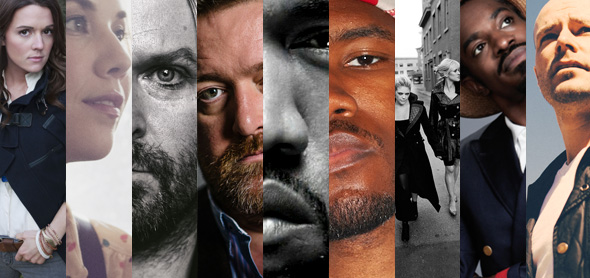 last january, i had a lot of fun putting together album predictions for 2014. recently, i revisited those predictions and found that they were a mixed bag. some i nailed, while others proved to be little more than false hopes.
so i thought i'd do the same this year. there's plenty to look forward to in the coming months. i've stated multiple times than 2014 was a down year for music and these prediction lists have proved that to be correct. last year, my list consisted of 9 album predictions, whereas this year, i've doubled up with 18 album predictions (and that could've really been closer to 30).
i've grouped these into "i wish" (no rumors or clues of new music, but they're due an album), "i think" (enough rumors to make me believe it's actually gonna happen this year) and "i know" (confirmed release dates or substantiated rumors). we'll start with my wish list.
i wish
1. derek webb
last album: i was wrong, i'm sorry & i love you, 2013
there's been no indications of this happening, but this feels like it's due. there have been few fans who have more ardently followed derek's work than me, but to be honest, i wasn't a big fan of his last album. so, i'm hoping 2015 brings new work.
2. elbow
last album: the take off and landing of everything, 2014
so yeah, they just released an album last year, but guy garvey has said that elbow is already back in the studio working on new material (more on guy garvey later). also, much like derek webb's last album, i just never fully connected with elbow's last album, so this is sorta wishful thinking.
3. dixie chicks
last album: taking the long way, 2006
this is the first prediction that you can file under 'fat chance'. i don't think this is gonna happen, but it's certainly appropriate to have in my i wish list. this is long overdue. it's time, ladies.
4. sufjan stevens
last album: the age of adz, 2010
sufjan, old friend, it's time to make this happen. the last we heard from sufjan was 2010's the age of adz, which, quite frankly, wasn't exactly what most fans were looking for. there's been no indicators of new work, but it feels like it's time. maybe this could be the year that he makes a return to more of the folk-indie type of stuff that really catapulted his career and endeared fans.
5. andre 3000
last album: n/a
i doubt this will happen, but count me among the legions of people who really want this to happen. andre 3000 has expressed multiple times that he's not super interested in the music part of his career at this point. further, he's aware that the expectations would be monumental and unfair, so it's a bit of a lose-lose situation for him.
6. dr. dre
last album: the chronic 2001, 1999
this is sorta the holy grail of album speculation and expectations. i mean, i don't see this happening this year and it might not happen ever, but here's to hoping.
i think
1. guy garvey
last album: n/a
this is my first bold prediction. there's no guarantees that this will happen in 2015, but garvey has confirmed this as something that's been in the works a couple times in the past year. i think it'd be really interesting to see how his solo work might differ from what elbow does.
2. frank ocean
last album: channel orange, 2012
it's time. and i think it's gonna happen. ocean teased some new work with a snippet of a new track called 'memrise' back in november, so we know something's brewing. this was my favorite album of 2012, so i certainly have lofty expectations.
3. alunageorge
last album: body music, 2013
this was my top new music discovery of 2013. it's the best throwback to early 90s r&b that i've heard in a long time, so it'll be interesting to see if they continue to move in that direction for their sophomore album. here's to hoping they don't fall victim to the sophomore slump.
4. lisa hannigan
last album: passenger, 2011
i forgot it had been since 2011 that she released new work. so, she's due an album. there's not been a ton of hard news about a new album, but there's been a bit of rumbling, so i think this is a safe prediction.
5. miguel
last album: kaleidoscope dream, 2012
we finally just heard a new 3-track EP, but it was mysteriously released with scant details. so, it's hard to say if that's the direct precursor to a full album or if we're in for a lengthy wait. if the new album is as good as the EP, we're in for a treat.
6. sky ferreira
last album: night time, my time, 2013
at some point this year, it seems pretty likely that sky ferreira will release her sophomore album. we know she's been working on it, so at some point, it's coming. her debut album, night time, my time, was one of the biggest surprises to me of 2013.
i know
1. kanye west
last album: yeezus, 2013
so, this prediction was on last year's i know list also. and then…it didn't happen. i was convinced last year would be the year, but i think all signs point to a new album dropping at any time. i suspect this will be a surprise release and i don't expect it to happen any later than early summer.
2. brandi carlile
last album: bear creek, 2012
we know that this album (the firewatcher's daughter) is coming. specifically, it's coming in march and from what we've heard so far from the album, it's gonna be really good. there are few artists that i can count on being as consistent as brandi carlile, so i feel good about my high hopes.
3. mute math
last album: odd soul, 2011
i almost put this prediction in the i know category last year and alas, here we are a year later and it hasn't come out. we know these guys have been in the studio for most of last year and quite frankly, when albums keep getting pushed back, it makes me nervous. there's usually a reason. nevertheless, i'm excited for this album and i'm confident that we'll finally get it this year.
4. kevin max
last album: cotes d'armor, 2010
this (broken temples) is slated for a march release and honestly, i have super mixed expectations for this album. his first couple solo albums are truly seminal albums for me, but then…things changed. after a stint as lead singer of audio adrenaline, i truly fear this album will be a collection of CCM radio songs. we'll see…
5. mark ronson
last album: record collection, 2010
uptown funk will be here this week and we've heard 3 tracks so far. one of those (uptown funk) was one of my top tracks of 2014, so the expectations are high. mark ronson knows how to make really great music, so i feel safe assuming this album will be one of the year's best.
6. noel gallagher's high flying birds
last album: self-titled, 2011
i'm still a huge oasis fan and noel was always my favorite part of that band. his first debut album wasn't necessarily great, but it was good enough to give me hope for the follow up. also, the new album's (chasing yesterday) lead single, in the heat of the moment, was a solid way to build anticipation for the new LP.
alright, so there you have it. i'm sure there's plenty more great albums scheduled to release this year, but this, at least, gets us looking ahead.
what albums are you anticipating in 2015?