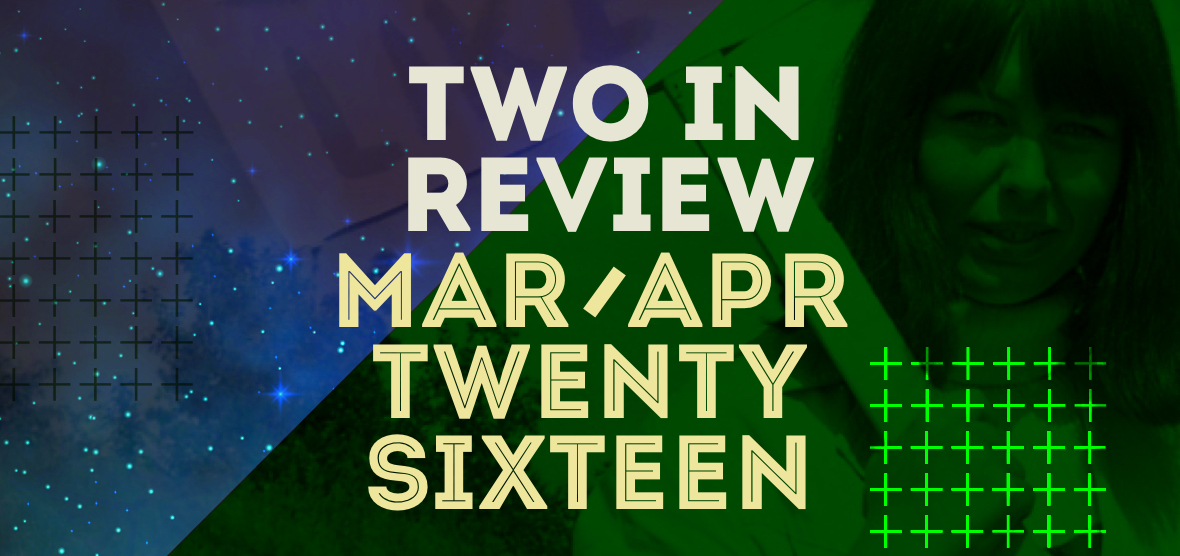 ladies and gents, it's time once again for another installment of two in review. i suspect this post will be a bit lighter than yesterday's post. 😉
it's been a particularly plentiful couple months of really good new music. this was one of those times where several good tracks had to hit the cutting room floor. and unlike a couple recents editions of two in review, there's a good selection of stuff from across a wide array of genres, so there's a little bit of something for everybody.
without further ado, here's the lineup for the march/april edition of two in review:
1. garbage: empty [from strange little birds]
2. lucius: something about you [from good grief]
3. ray lamontagne: the changing man [from ourobouros]
4. andrew bird: left handed kisses (ft. fiona apple) [from are you serious]
5. gallant: weight in gold [from ology]
6. kevin max: phantoms of terra [from playing games with the shadow]
7. sam beam & jesca hoop: chalk it up to chi [from love letter for fire]
8. sean watkins: what to fear [from what to fear]
9. wild belle: it was you (baby come back to me) [from dreamland]
10. miike snow: heart is full (remix) (ft. run the jewels) [from iiii]
11. frightened rabbit: woke up hurting [from painting of a panic attack]
12. steven page: the work at hand [from heal thyself pt. 1: instinct]
13. beyonce: freedom (ft. kendrick lamar) [from lemonade]
14. gwen stefani: where would i be? [from this is what the truth looks like]
15. sturgill simpson: brace for impact (live a little) [from a sailor's guide to earth]
16. sara watkins: move me [from young in all the wrong ways]
17. matt and kim: let's run away [from we were the weirdos]
18. yuri beats: legend (holy shit) (drake x father john misty) [unofficially released]
19. the moth & the flame: young & unafraid [from youn & unafraid]
20. autre ne veut: little red corvette [unofficially released]
get your download on, folks.