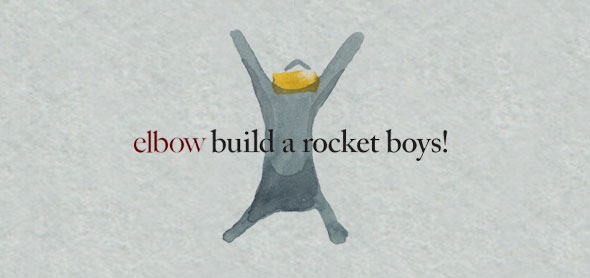 i love elbow.
and i'm not talking about the body part.
i am, of course, talking about the british rock band that, for a little over a decade, have been putting out albums that get better and better with each release. their last two albums, leaders of the free world and the seldom seen kid, are, hands down, two of my favorite albums over the last 10 years.
several days ago, they announced that their highly anticipated follow-up to 2008's the seldom seen kid will be titled build a rocket boys! and will be released on march 7th (in the uk, with a US date to follow). today, the band released a special boxing day gift by showcasing the first single (and album's opening track), lippy kids.
great bands never quit innovating and tweaking their sound and evolve with each album. this has been no more so true than with elbow. with this album, i think we'll see, not so much a major evolution, but the next logical progression of their sound. in interviews, they've indicated that as the band has grown and begun to play large venues (arenas), they've adapted their sound to more appropriately fill those spaces. i'm assuming it will be a larger sound that is a bit more grandiose and dynamic (which should be a very good thing).
the first track, lippy kids just hints at that. in reality, it could have fit in well with the seldom seen kid, offering what a typical elbow opening track offers: a sonic getting-your-toes-wet in terms of setting the stage for something much bigger in the subsequent tracks. what does show a bit of an evolution, though, is some of the building moments in the chorus that showcases lead singer guy garvey's incredible voice.
after hearing this track, i'm even more excited to hear the entire album, which is slated to have the following track list:
1. Lippy Kids
2. The Birds
3. With Love
4. Neat Little Rows
5. Jesus Is A Rochdale Girl
6. The Night Will Always Win
7. High Ideals
8. The River
9. Open Arms
10. The Birds (Reprise)
11. Dear Friends
if you visit their newly launched "teaser" page for the album, you can pre-order the album as well as watch a video (which is beautifully shot) of the new track being performed. you can also watch it here, in addition to just hearing the mp3
enjoy.
elbow / lippy kids: