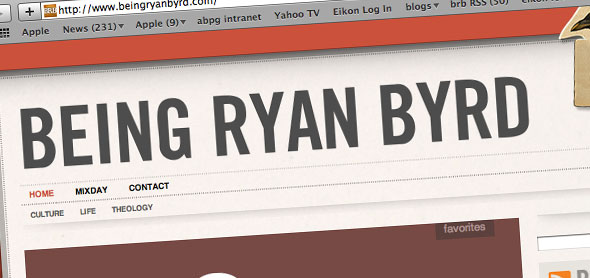 in june 2010, i decided i wanted to redesign my website and began the transition/redesign process.
in the wee hours of the morning a couple nights ago (in december 2010), i finally finished it.
and ladies and gentlemen, here's what i came up with.
yes friends, after years of slogging through the wastelands of blogger, i've finally made the huge transition over to wordpress…and even threw in a redesign of the site to boot.
i'm really excited about the transition and i think it's going to be extremely worthwhile in the long run.
please take a look around, see what you think and feel free to offer some feedback. i'm a big boy, so i'm very open to constructive criticism. beyond sheer design changes, i'd love some feedback on functionality. there's still quite a bit of backend tweaking that needs to be done, so let me know if something is broken or is just wonky. this will be a work in progress.
here are a few things that i already know don't work:
old links: unfortunately, any link from my old website now no longer works. if you click on one, it will just send you to my homepage. as far as i can tell, if i want those changed, i'll have to go through and manually change them.
excerpts: one each of the posts, you'll notice, on the home page, that there's an excerpt. in the import from blogger, the excerpts didn't come in correctly. i've manually corrected some, but haven't taken the time to update the vast majority.
pages: you'll notice the mixday page has basically nothing on it and the contact page is pretty stripped down. those are simply works in progress.
let me know anything else you find. thanks for visiting and happy new year!