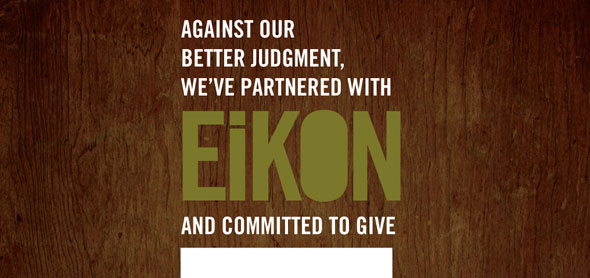 we have a beautifully strange little group of people at eikon church. (i tell them this often.) we certainly embrace our quirkiness and a couple nights ago at our weekly gathering, i was able to express that uniqueness in an unexpected and fun way.
sunday night we shared the news that, after literally several years of looking for the right fit, we've found a building that will serve as a new home base for our church (more about this in length very soon on this blog as well as the eikon blog). leading up to the announcement, a few of us leaders were working through ways to challenge and encourage our people to help support the new direction of the church financially.
quite frankly, talk of money in the church sorta creeps me out and makes me uncomfortable. i know far too many pastors (especially church planters) that are little more than glorified snake oil salesman fundraisers and i never want eikon to be a place where people get the sense that we're more concerned about their checkbooks than we are their friendship.
with that said…
there was just a pragmatic need to have a frank discussion about our church's finances. we gotta pay rent. we gotta turn the lights on. more importantly, though, we gotta feed people. and meet needs. and be jesus in very tangible ways. it costs cash money. and we simply don't have much of it.
so we needed a pragmatic and tangible way for people to make financial commitments.
enter the old school, i-swore-i'd-never-do-it pledge cards.
oh yes.
so, i needed to whip something up in terms of design, but i was just getting depressed while looking online at some of the most lame, churchy pledge card templates known to man (seriously, just google it).
after little luck and design-suicide thoughts, i decided to, once again, embrace our uniqueness and inject some lightheartedness into an otherwise uncomfortable (and not-so-exciting) discussion about money. in the end, i was really pleased from a design standpoint. here's what i came up with (click to see full size version).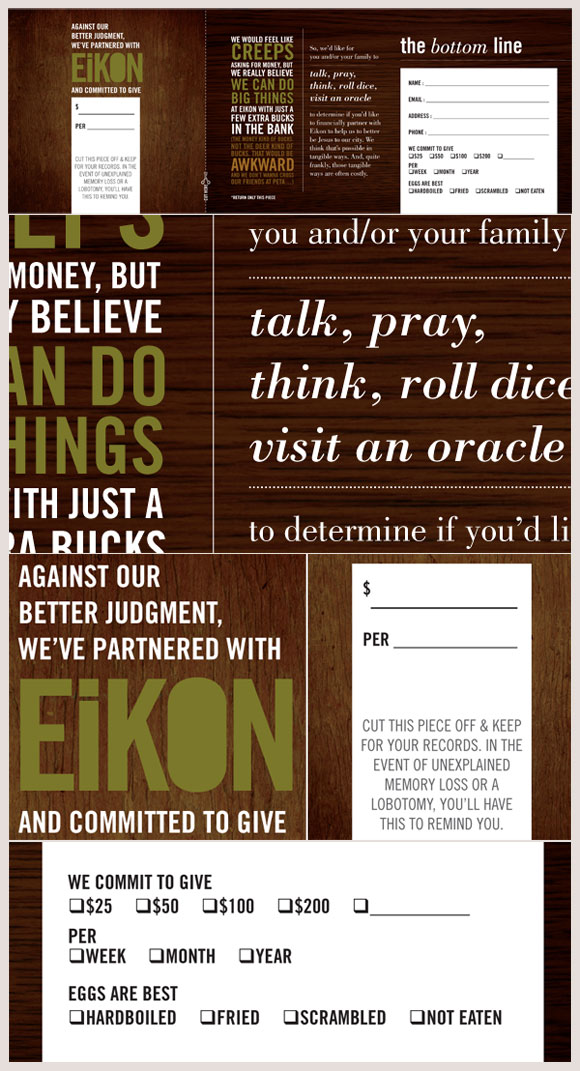 i don't, by any means, think this is the apex of design or something i'm gonna send in to the national design awards, but it's fun and an alternative to stuffy pledge cards. also, i don't think these (obviously) would work for every church, but certainly, someone could repurpose them with their logo and their church information.
so, i'm including the live files (indesign file with fonts & links) for your downloading pleasure. if you can use them, that's awesome. let me know if/how you use them. i'd love to see them and hear about it.