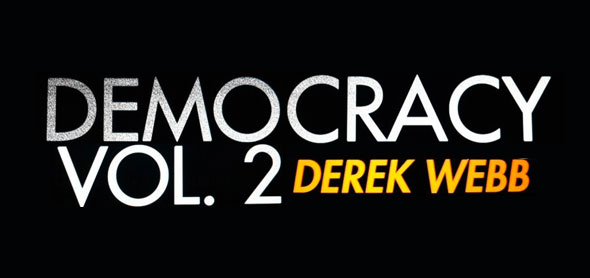 throughout 2010, i blogged about derek webb's latest innovative project called democracy vol. 1. fans were able to cast votes for up to 12 songs that they wanted webb to cover. then, the 12 songs receiving the most votes would be covered by webb for the album. the album was recorded over the span of 2010, with 1 track being recorded and released each month. from january to december, webb released 1 track each month. for those who would like to catch up, here's the total track listing (with links to my blog posts):
1. the beatles: while my guitar gently weeps
2. coldplay: fix you
3. bob dylan: the times they are a-changin'
4. gnarls barkley: who's gonna save my soul
5. sufjan stevens: chicago
6. u2: where the streets have no name
7. huey lewis and the news: power of love
8. the beatles: eleanor rigby
9. simon and garfunkel: the sound of silence
10. radiohead: karma police
11. leonard cohen: hallelujah
12. traditional hymn: come thou fount of every blessing
well, naturally, he's doing democracy vol. 2 throughout the course of 2011. and today, we found out the first track of the year.
march's track is the now-classic, f**k you by cee lo.
the selection of this track was no surprise. i would've bet about a million bucks that 1.) this track would be voted in and 2.) that he would've begun the collection with this. people couldn't resist seeing how he'd handle a song like this, so i'd be surprised if it wasn't the top vote-getter.
of course, the big question: would he cover the original and have the shitstorm that would've followed or play it a little more safe and go with the neutered, forget you. well, he did a little of both. it seems he recorded it with full on f**k you's, but edited them out in the released version, much like a radio edit. ultimately, this means that an uncensored version exists and in the age of the interwebs, we're bound to hear it (thus allowing for the aforementioned shitstorm…).
as for the track itself, it's good. maybe not great, but very, very good. ultimately, to create a great cover of a culturally ubiquitous song like this is nearly impossible. they can be good—much like webb's version—but all you can think of is cee lo belting it out in a way that only cee lo can pull off. webb is wise in the sense that he just totally reimagines the song similarly in the way that he handled leonard cohen's hallelujah. trying to replicate a classic is crazy, but reimagining a classic is doable. here, similar to the cohen cover, he opted for a throwback sound that makes it fun & quirky & fully distinguishable from cee lo's original version.
as always, though, don't take my word for it. check it out for yourself. here's the track.
derek webb / f**k you: