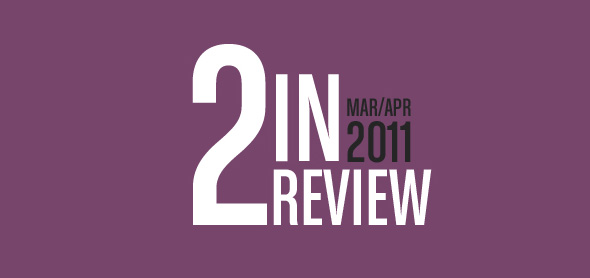 almost a year ago, i began a new blog series, of sorts, in which i compiled a mix of the best music i had discovered in the preceding two months. the series and mixes are called, two in review. read the original post for details of why i started this.
feel free to go back and check out past editions:
another couple months have passed by, so it's time to once again bring you two in review. for whatever reasons, there was a ton of great music from the last couple months. it was really hard to narrow it down to 20 tracks. this mix could have easily been 30 or more tracks. so, regrettably, some great music (including shirley manson, alela diane, ezra furman & others) hit the cutting room floor.
here's the lineup for the march/april 2011 edition:
1. my country / tUnE-yArDs [from W H O K I L L]
2. raid (ft. 50 cent & pharrell) / pusha t [from fear of god]
3. future starts slow / the kills [from blood pressures]
4. my love follows you where you go / alison krauss & union station [from paper airplane]
5. windows / broken bells [from meyrin fields]
6. losers / the belle brigade [from the belle brigade]
7. strange negotiations / david bazan [from the forthcoming strange negotiations]
8. folsom prison gangstaz / dj topcat (johnny cash vs eazy e) [from eazy cash]
9. my little girl from tennessee / chris thile & michael daves [from the forthcoming sleep with one eye open]
10. open arms / elbow [from build a rocket boys!]
11. make some noise / beastie boys [from the forthcoming hot sauce committee part two]
12. eleven / thao & mirah [from thao & mirah]
13. heart attack / raphael saadiq [from the forthcoming stone rollin']
14. in the devil's territory / derek webb [from seven swans reimagined]
15. helplessness blues / fleet foxes [from the forthcoming helplessness blues]
16. rolling in the deep / john legend [from rolling in the deep single]
17. machu picchu / the strokes [from angles]
18. bad ritual / timber timbre [from creep on creepin' on]
19. mine smell like honey / r.e.m. [from collapse into now]
20. born with a broken heart / david wax museum [from everything is saved]
**bonus track :: forever young / brandi carlile [from the forthcoming live at benaroya hall]
enjoy!