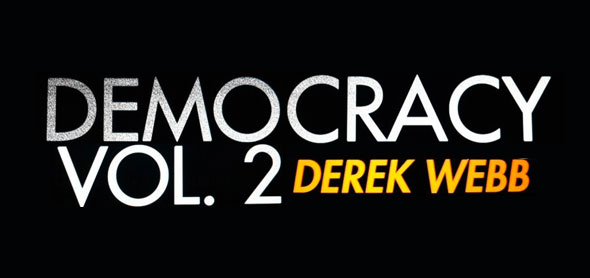 throughout 2010, i blogged about derek webb's latest innovative project called democracy vol. 1. fans were able to cast votes for up to 12 songs that they wanted webb to cover. then, the 12 songs receiving the most votes would be covered by webb for the album. the album was recorded over the span of 2010, with 1 track being recorded and released each month. from january to december, webb released 1 track each month. for those who would like to catch up, here's links to each month's blog posts from 2010:
january | february | march | april | may | june | july | august | september | october | november | december
and here's the 2011 tracklist so far:
1. cee lo green: f**k you
2. bon jovi: livin' on a prayer
3. the beach boys: god only knows
today, we found out june's track: one by u2.
first, a reminder: derek webb doesn't choose these songs. rather, it's the 10 tracks that received the most votes from fans. so why am i offering this reminder?
because you're setting yourself up for failure when you try to reinterpret a classic like this.
ok, so is it a failure? no, actually. he handled it as smart as possible. if you try to create a clone, 100 times out of 100, you're gonna come up short. you'll simply pale in comparison to bono's vocal and u2's arrangement. but if you blaze a bit of your own trail, you'll at least differentiate yourself. that's precisely what derek webb has done.
relatively speaking, he's successful. the pacing is a bit slow and there's an intensity in bono's delivery that is somewhat absent here, but hey, if that's the only things missing that stick out, he's doing alright. it's got a little bit of dangermouse in it and for webb, that comment might just trump anything nice i could have said. 🙂
in the end, it's not the best cover he's done, but it holds up amongst some of the other songs he put out so far.
as always, don't take my word for it. check it out for yourself. here's the track.
derek webb / one: