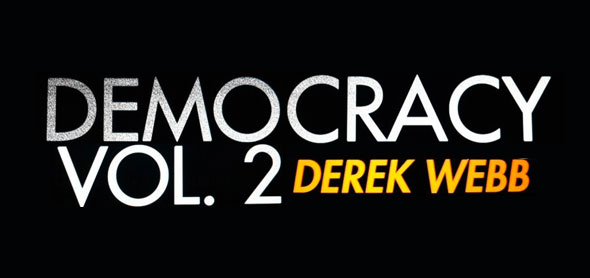 if you'd like to take a look back at 2010's democracy vol. 1, you can find all those posts through the following links:

january | february | march | april | may | june | july | august | september | october | november | december
throughout the year, i been blogging about derek webb's ongoing project called democracy vol. 2. fans were able to cast votes for up to 10 songs that they wanted webb to cover. then, the 10 songs receiving the most votes would be covered by webb for the album. the album is being recorded over the span of 2011, with 1 track being recorded and released each month. from march to december, webb has/will release 1 track each month. for those who would like to catch up, here's links to each month's blog posts so far:
1. cee lo green: f**k you
2. bon jovi: livin' on a prayer
3. the beach boys: god only knows
4. u2: one
today, we found out july's track: be thou my vision.
just like last month, allow me to offer a reminder: derek webb doesn't choose these songs. rather, it's the 10 tracks that received the most votes from fans. so why am i offering this reminder?
because this isn't a cover.
well, unless you count every song we sing on sundays in church as covers.
now, maybe i'm being too nitpicky here, but i want to hear derek webb reinterpret a song that comes from another artist. there's something interesting and unique about the process of reinterpreting not just another song, but another artist. here, we're missing that.
ok, i'll shut up about that and just talk about the track.
all in all, i like the track. this is the kind of sound/vibe i've come to expect from webb—and that's a good thing. for all my gripes about not reinterpreting another artist, he certainly does reinterpret the song. dramatically, in fact. this ain't your grandma's be thou my vision. but this is absolutely a song i might (and will likely) use in a corporate worship setting, either as a background track or a video track or something of the like. it creates a great atmosphere and could be the kind of song that brings quite a bit of focus and clarity to a moment or time of worship.
despite my disappointment for not getting a true cover, it's a great song. this is one of my favorite hymns and webb has done it justice.
as always, don't take my word for it. check it out for yourself. here's the track.
derek webb / be thou my vision: