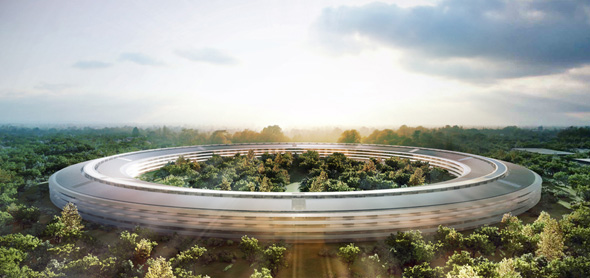 i think it's time for a good apple post. it's been awhile. how 'bout it?
a couple months ago, the true fanboys rushed over to youtube to watch what was almost surreal in some kind of tech world/hollywood celeb meets real life mashup: steve jobs presenting to the cupertino city council. at said city council meeting, jobs presented apple's plans to build what has been dubbed—very appropriately—the mothership. apple's new campus will be a round glass, 2.8 million square feet building that will house thousands of employees. this will truly be the big apple. (see what i did there?) inside that 2.8 million square feet will be a 25,000 square foot fitness center, a 36,000 square foot dining area and a 100,000 square foot auditorium (presumable for future keynotes?).
at the presentation, jobs showed some pictures and people were able to get a quick look at the building. but now, the city of cupertino has made all the plans public (including a plan overview, landscaping diagrams and floor plans). most notably, apple included quite a few renderings that look, well, amazing.
so, if you haven't seen these yet, check them out. i'm gonna go ahead and say that this will now become america's mecca. pilgrimage, anyone?