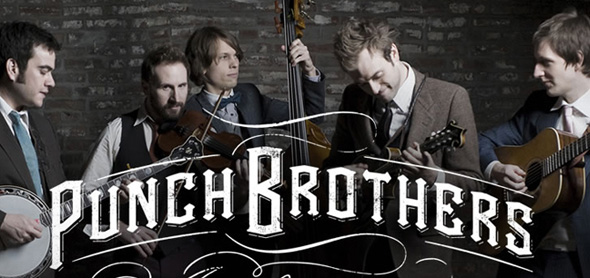 one of my all-time favorite bands is (was?) nickel creek. and no member shined brighter than mandolinist and vocalist chris thile. since his departure, he's not only had a successful solo career, but is now forging a new trail with one of the most fresh and inventive "bluegrass" (for lack of a better word…) bands in quite some time.
the punch brothers' album, antifogmatic was one of my favorite (#5, to be precise) albums of 2010. it was complex and layered and just a beautiful album.
now, with the announcement of their upcoming album, who's feeling young now?, the brothers have released a new track (as a free download) called movement and location.
if the track is any indication of the direction of the album as a whole, we can look forward to a more complex and less-bluegrassy (feel free to borrow that word, if you'd like…) sound than antifogmatic. my initial response was, this sounds like if radiohead started playing bluegrass instruments. and, funny enough, the album will feature a cover of radiohead's kid a. here's a full track listing:
1. Movement and Location
2. This Girl
3. No Concern of Yours
4. Who's Feeling Young Now?
5. Clara
6. Flippen
7. Patchwork Girlfriend
8. Hundred Dollars
9. Soon Or Never
10. New York City
11. Kid A
12. Don't Get Married Without Me
alright, without further ado, here's the punch brothers' movement and location.