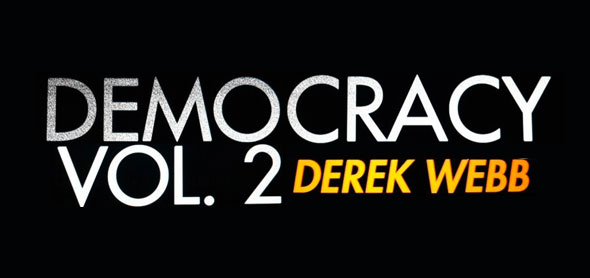 it is finished.
derek's webb 2nd year of crowd-sourced covers has reached a conclusion with today's release. if you haven't bought this album yet, please allow me direct you to derek's store where you can purchase the album. it's only $5, which is a ridiculously low price for this collection. the other great thing about purchasing right now is that you don't have to wait an entire month for each track. you'll get it all at once!
this project began in 2010 and if you'd like to take a look back, you can find all those posts through the following links:

january | february | march | april | may | june | july | august | september | october | november | december
throughout 2011, i've been blogging about this ongoing project called democracy vol. 2. fans were able to cast votes for up to 10 songs that they wanted webb to cover. then, the 10 songs receiving the most votes would be covered by webb for the album. the collection has been recorded over the span of 2011, with 1 track being recorded and released each month. from march to december, webb has released 1 track each month. for those who would like to catch up, here's links to each month's blog posts so far:
1. cee lo green: f**k you
2. bon jovi: livin' on a prayer
3. the beach boys: god only knows
4. u2: one
5. traditional: be thou my vision
6. simon & garfunkel: bridge over troubled water
7. the beatles: revolution
8. rich mullins: creed
9. the swell season: falling slowly
today, we found out december's track: nick lowe's (made popular by elvis costello & the attractions) (what's so funny 'bout) peace, love & understanding.
lyrically, this song is probably an appropriate ending for the year. and i'd say webb did it justice.
most interesting about this cover is it's actually a bit of a mashup with one of his own songs: she must and shall go free's take to the world. he teased this in an earlier tweet:
last 'democracy, v2' track coming today. i've always said these two songs sounded a LOT alike… http://t.co/KxG3EFTu

— derek webb (@derekwebb) December 29, 2011
the mashup works. while it's not a direct implementation of the original track (it's been updated to match the 2011 derek webb vibe…rather than the 2003 vibe…), it's a pretty good natural fit. i wouldn't say that this song, by any means, is my favorite song of the year, but it's certainly one of the better covers of the year. again, it's a great way to end the year.
as always, don't take my word for it. check it out for yourself. you can purchase the entire collection by clicking here or you can listen to it here.
———————————————————————————
as a final end-note to my ongoing democracy vol. 2 blog review series, i'm a little surprised at the collection of songs that were chosen. some (cee-lo's f*** you) were no-brainers while others (this one, actually) were sorta out of left field. by no means am i disappointed with the final collection, but certainly, there were songs that i voted for (and others on the original list) that could've been particularly interesting. with so many arcade fire songs nominated, i was sure there'd be at least one chosen. but, i guess it sorta has the "ross perot problem" where people who would tend to vote for arcade fire songs vote for so many that the votes are watered down. maybe next year. here's the list of songs i voted for (the ones that were actually chosen are in bold):
1. closer to fine: indigo girls
2. f*** you: cee-lo
3. firework: katy perry
4. god only knows: beach boys
5. hide and seek: imogen heap
6. jesus freak: dc talk
7. jesus walks: kanye west
8. my body is a cage: arcade fire
9. the cave: mumford & sons
10. we used to wait: arcade fire