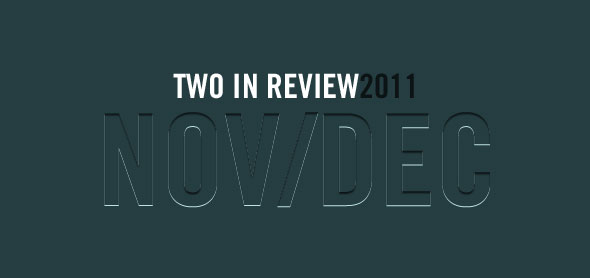 in mid-2010, i began a new blog series in which i compiled a mix of the best music i had discovered in the preceding two months. the series and mixes are called, two in review. you can read the original post for details of why i started this.
feel free to go back and check out past editions:
for anyone (read: nerds) who care anything about the album artwork, i've gone back and updated the artwork for each of the past editions.
another couple months have passed by, so it's time to once again bring you two in review. the past couple months have been a little slow in terms of new music. nevertheless, there's still been some good music and a couple highly anticipated albums. as always, i hope this is the springboard for you to discover the fullness of these artists' albums and catalogues.
here's the lineup for 2011's final edition:
1. the weeknd: d.d. [from echoes of silence]
2. punch brothers: movement and location [from their forthcoming who's feeling young now?]
3. chris cornell: cleaning my gun [from songbook]
4. lana del rey: born to die [from her forthcoming born to die]
5. the black keys: gold on the ceiling [from el camino]
6. waterdeep: so good to have a friend [from no doubt of sunshine]
7. b.o.b. (ft. andre 3000): play the guitar [from his forthcoming strange clouds]
8. butterfly boucher: 5678! [from butterfly boucher]
9. the civil wars: oh, henry [live from daytrotter studios]
10. birdy: skinny love [from birdy]
11. gin wigmore: man like that [from gravel & wine]
12. derek webb: creed [from democracy vol. 2]
13. john mark mcmillan: sheet of night [from economony]
14. the roots: stomp [from undun]
15. alabama shakes: i found you [from alabama shakes]
16. dia frampton: walk away [from red]
17. oh land: wof & i [from oh land]
18. amy winehouse: our day will come [from lioness: hidden treasures]
19. the moth & the flame: how we woke up [from the moth & the flame]
20. common: blue sky [from the dreamer the believer]
enjoy!