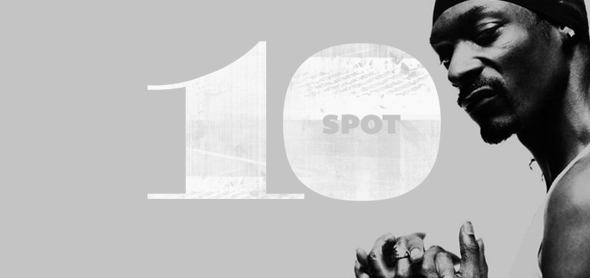 i recently began a new blog series called '10 spot' in which i'd be crafting lists of the top 10 songs from artists of my choosing. i kicked off the series a couple months back with my 10 spots for the black keys and kanye west and since then, i've followed up with outkast. now, i thought i'd give a shout out to this weekend's riverfest festivities.
i go to riverfest every year regardless of the musical acts, but this year, i'm actually excited about the lineup. particularly, my favorite rapper of all-time, snoop dogg, is playing sunday night and one of my top 5 all-time bands, mutemath, is playing saturday night. no doubt, i lucked out on this year's musical lineup. in honor of that, i thought i'd get everybody ready with a couple 10 spots.
my favorite snoop album is his 1993 debut, doggystyle, and you'll see plenty of representation of that here. but snoop's catalog of hits isn't limited to his own solo material. long before he went on his own, he was delivering some of his most memorable moments under dre's tutelage. so, here's my list:
10. serial killa (doggystyle)
9. doggy dogg world (doggystyle)
8. vato (tha blue carpet treatment)
7. deep cover (deep cover soundtrack)
6. stranded on death row (the chronic)
5. tha next episode (the chronic 2001)
4. murder was the case (doggystyle)
3. lodi dodi (doggystyle)
2. tha shiznit (doggystyle)
1. nothin' but a g thang (the chronic)
as for mutemath, my affection began with them in the late 90s when 3 of the current members were a part of a strange little rock band called earthsuit. after their breakup, mutemath formed and they've been putting out incredible and innovative music ever since. while their self-titled debut is head and shoulders their best album, there's definitely some representation from their remaining catalog. here's my list:
10. electrify (armistice)
9. chaos (mutemath)
8. break the same (mutemath)
7. odds (armistice)
6. backfire (armistice)
5. control (mutemath)
4. prytania (odd soul)
3. plan b (mutemath)
2. stare at the sun (mutemath)
1. typical (mutemath)
let me know what i missed. or what i got completely wrong. and make sure to go see MUTEMATH saturday night at 6 and snoop dogg sunday night at 9:30.
if you'd like to download these mixes, you can do so here:
snoop dogg **warning: this mix contains quite a bit of objectionable language** // download the .zip //
MUTEMATH // download the .zip //