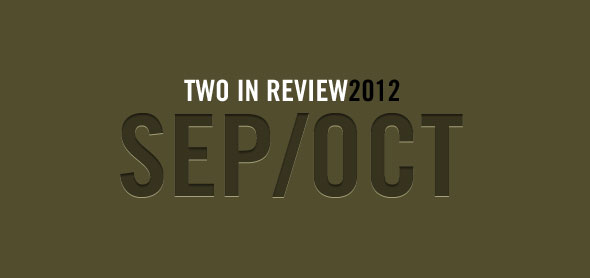 ladies and gentlemen (and others), it's come that time to once again bring you two in review.
if you've missed past editions, here's the previous posts from 2012:
it's been a good couple months of music. more than just good, it's been a diverse couple of months. there's a little bit of everything on this mix. new artists, along side artists you'll be very familiar with. a little bit of rap. a little bit of rock. and even one track with both a little rock and a little rap. alongside some more obscure tracks, there's a couple shots of top-40ish tracks. (if you'd like to read a little about the process i employ in order to choose songs, you can read the mini-rant from a previous two in review post.]
without further ado, here's the lineup for the september/october edition of two in review:
1. kanye west: clique (ft. jay-z & big sean) [from cruel summer]
2. alunageorge: watching over you [from annie mac presents 2012]
3. bad books: forest whitaker [from II]
4. gary clark, jr.: glitter ain't gold (jumpin' for nothin') [from blak & blu]
5. thao & the get down stay down: holy roller [from their forthcoming we the common]
6. lord huron: time to run [from lonesome dreams]
7. balthazar: the boatman [from applause (2010)]
8. chvrches: the mother we share [from the currently untitled forthcoming album]
9. benjamin gibbard: something rattling (cowpoke) [from former lives]
10. mumford & sons: babel [from babel]
11. bertie blackman: boy [from pope innocent x (p.i.x.)]
12. the black keys & rza: the baddest man alive [from the man with the iron fists soundtrack]
13. ellie goulding: only you [from halcyon]
14. macklemore & ryan lewis: same love [from the heist]
15. andrew bird: when that helicopter comes [from hands of glory]
16. nelly furtado: high life (ft. ace primo) [from the spirit indestructible]
17. noel gallagher's high flying birds: freaky teeth [from fast than the speed of magic]
18. ms mr: hurricane [from candy bar creep show]
19. bear colony: flask report [from soft eyes]
20. no doubt: sparkle [from push and shove]
enjoy!
// download the .zip //