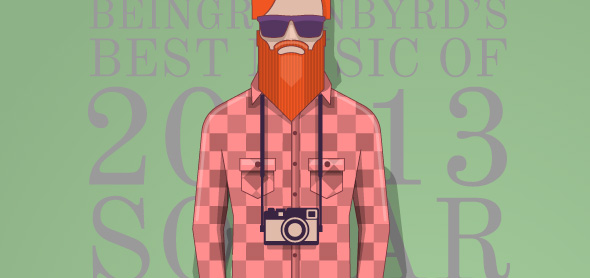 believe or not, we've just about made it halfway through 2013 (officially, the halfway point is july 1). it's been a pretty good year for music. there's been a few really great albums and even more great songs. no doubt, i expect quite a few of these albums and songs to make it onto my end-of-the-year lists.
albums
25. lady: lady
24. the golden age: woodkid
23. reincarnated: snoop lion
22. overgrown: james blake
21. wonderful, glorious: eels
20. the wack album: lonely island
19. the lone bellow: the lone bellow
18. currents: eisley
17. you belong here: leagues
16. fiction family reunion: fiction family
15. pythons: surfer blood
14. we the common: thao & the get down stay down
13. jamie lidell: jamie lidell
12. …like clockwork: queens of the stone age
11. be: beady eye
10. the great gatsby ost: various artists
9. the hurry & the harm: city and colour
8. the beast in its tracks: josh ritter
7. indicud: kid cudi
6. the ghosts of darkland county ost: various artists
5. mother: natalie maines

in the 7 years since the dixie chicks' last album, we've heard very little from lead singer natalie maines. finally, we heard what she would sound like on her own terms and it was worth the wait. there's some misses, but a lot more hits.
4. secondhand rapture: ms mr

ms mr was one of my favorite new music discoveries of last year. with their debut ep, candy bar creep show, they established that they're one of the most forward-thinking bands making music right now. secondhand rapture picks up where they left off in 2012 with one of the best albums of 2013.
3. modern vampires of the city: vampire weekend

i've never been a vampire weekend fan. i just didn't get it. but now i've seen the light. and the light on this album is (amongst other things) a number of perfectly crafted songs exploring themes of faith and a higher power.
2. the 20/20 experience: justin timberlake

the expectations for this album ramped up to insane levels as soon as the album's release date was announced. and while the album wasn't what a lot (or many) people expected, it still managed to meet expectations. the best part: with an additional release slated for september, this is only part 1.
1. yeezus: kanye west

is there a more divisive artist than kanye west? yeezus doesn't do anything but drive the wedge in deeper. with a move to a raw, industrial sound, kanye has transformed once again and has made an album on his own terms. it's innovative, it's forward-thinking and it's my favorite album so far in 2013.
songs
not to be outdone by the albums, here's my favorite songs of the first half of 2013:
25. harder than stone: city and colour
24. #beautiful (ft. miguel): mariah carey
23. salty sweet: ms mr
22. body party: ciara
21. we the common (for valerie bolden): thao & the get down stay down
20. ego free sex free: autre ne veut
19. the woodpile: frightened rabbit
18. blood on the leaves: kanye west
17. unbelievers: vampire weekend
16. my god is the sun: queens of the stone age
15. diane young: vampire weekend
14. that's who i am: neko case
13. new slaves: kanye west
12. if i had a tail: queens of the stone age
11. step: vampire weekend
10. new lover: josh ritter
9. immortal: kid cudi
8. attracting flies: alunageorge
7. mirrors: justin timberlake
6. numbers on the board: pusha t
5. retrograde: james blake

i have a love/don't-get relationship with james blake. not hate—just don't-get, sometimes. all in all, his album, overgrown was good, but didn't quite meet my expectations. retrograde, though is something i get, and love.
4. on sight: kanye west

the ferocity of the opening track of yeezus immediately sets the tone for the entire album. it's dark, it's industrial and it tells the listener that kanye isn't interested in just retreading his past work.
3. tessellate: ellie goulding

last year, ellie goulding's cover of the weeknd's high for this was one of my favorite songs. only halfway into 2013 and she's already outdone herself with a slowed-down, sensual cover of my favorite alt-j track, tessellate.
2. send it up (ft. king louie): kanye west

with yeezus, kanye had very little interest in mass appeal and radio-friendly music. with send it up, though, he dips his toes into making a track that could actually work in a club. but even beyond the club, this track—featuring relatively unknown chicago rapper king louie—works its way into the second spot on my list.
1. pusher love girl: justin timberlake

the first time i heard this track on its release date in march, i stated that it was the best pop song i've heard in years. and since that time, nothing has come along to change my mind. justin timberlake managed to make another incredible, innovative album and this track is its crowning jewel.
what good would a list of best songs be if you couldn't have a listen? i've zipped them up and you can download them by clicking the button below.