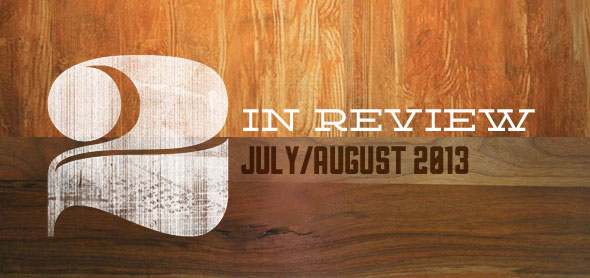 ladies and gentlemen, once again, it's time for another two in review.
if you've missed any past reviews, you can view the two in review archive.
over the last couple months, there's been a lot of really great music. narrowing down a long list of tracks was difficult. and for whatever reason, of all the great music, there were several top-40ish songs that made the cut. so, if nothing else, i hope this is a mix that's fun to listen to.
so without further ado, here's the lineup for the july/august edition of two in review:
1. haim: the wire [from days are gone]
2. james bay: when we were on fire [from the dark of the morning]
3. betty who: you're in love [from the movement ep]
4. the civil wars: i had me a girl [from the civil wars]
5. eminem: berzerk [from mmlp2]
6. alunageorge: superstar [from body music]
7. derek webb: heavy [from i was wrong, i'm sorry & i love you]
8. justin timberlake: take back the night [from the 20/20 experience 2/2]
9. jay-z: picasso baby [from magna carta holy grail]
10. lorde: royals [from pure heroine]
11. neko case: night still comes [from the worse things get, the harder i fight, the harder i fight, the more i love you]
12. tutankhamun brothers: hey jude, we major (kanye west and the beatles) [from what's a black beatle]
13. jars of clay: loneliness & alcohol [from inland]
14. quadron: lft [from avalanche]
15. ellie goulding: under control [from halcyon days]
16. john legend: made to love [from love in the future]
17. lissie: push on through [from back to forever]
18. katy perry: roar [from prism]
19. sam smith: safe with me [from nirvana ep]
20. haim: strong enough [from like a version]
get your download on, folks.